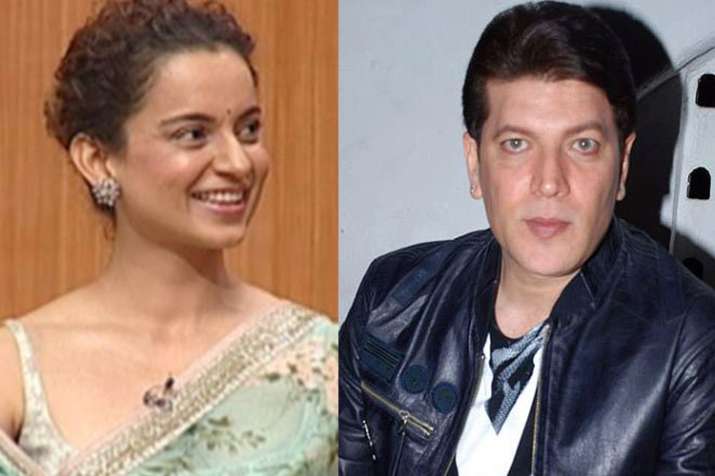 With her latest interview on India TV's show Aap Ki Adatlat, actress Kangana Ranaut shocked Bollywood as well as her fans. Some called her statements a promotional gimmick as her film Simran is going to release, others have lauded her fearlessness. Kangana opened up on various phases of her life. She not only revealed a lot about her relationship with Hrithik Roshan, the actress also narrated how actor Aditya Pancholi exploited her during her struggling days. Now, it's Aditya Pancholi's turn to speak up. Reacting to the whole fiasco, an angry Aditya stated that Kangana is mad and said he is going to take legal action against her.
"She is a mad girl, what to do, did you see the interview? Didn't you feel like some mad person was talking? Who talks like that? We have been in the industry for so long, nobody has ever spoken anything so evil about anyone. What should I say, she's a mad girl. If you throw stones in mud, it will only spoil your clothes," Aditya was quoted by an entertainment website.
He further said that whatever she said about him is a lie and he is going to take legal actions against her as it has affected his family. Aditya said, "She has to prove that I have done that."
During her explosive interview on Aap Ki Adalat, Kangana spared no one. She not only spilled beans about her relationship with Hrithik but also talked about Karan Johar and Adhyayan Suman. After Aap Ki Adalat episode was aired on Sunday, Hrithik's ex-wife Sussanne Khan supported him and called him a 'good soul'. 
Karan Johar reacted by calling her 'ungrateful' in a tweet.
Kangana also opened up on her relationship with Shekhar Suman's son actor Adhyayan Suman, who interestingly accused her of beating him up and practicing black magic soon after her public spat with Hrithik Roshan. 
Talking to Indian Express, Adhyayan Suman said, "Sorry haven't heard about the interview …been too caught up with the more important things in life… and I am not interested in knowing about it either."
"It's ok for people to have opinions and at this time I don't have one. Will talk soon. Need to get back for my shot," quoted the website.
Screenwriter Apurva Asrani also hinted his displeasure towards everything Kangana spoke. Singer Sona Mohapatra, through a Facebook post slammed Kangana for talking about her personal life in detail. However, author Taslima Nasreen found Kangana's statements honest. She tweeted, "Saw kangana's aap ki adalat. loved it. then I read her emails. crazy4 hrithik. I get confused. but I don't think she is suffering from asperger's."
Watch Kangana Ranaut's full interview on Rajat Sharma's Aap Ki Adalat
Also Read: This is how Twitter reacted after watching Kangana Ranaut on Aap Ki Adalat
Missed the show? Watch the viral episode of Aap Ki Adalat with Kangana Ranaut
For more entertainment news and updates, follow our Facebook page