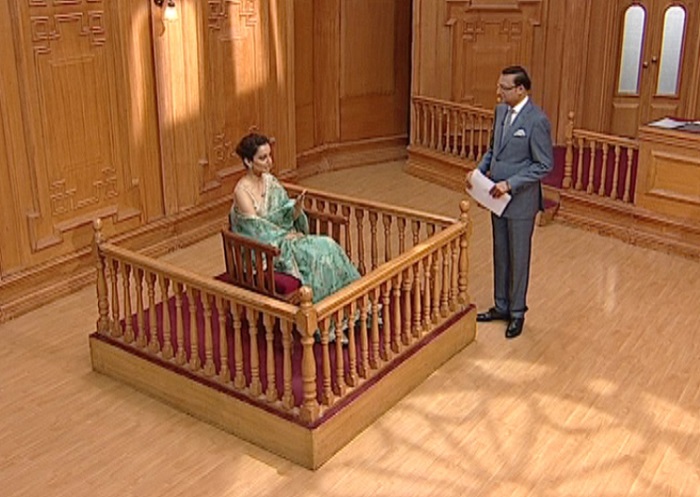 On Saturday, in one of the most controversial episodes of Aap Ki Adalat, Kangana Ranaut spurted out some shocking revelations about Hrithik Roshan and other famous personalities of Bollywood. The actress didn't mince her words for once before speaking out against the Bollywood biggies. She also unveiled the tradition of favouritism in award functions of industry and commented openly on them. There wasn't even a single moment during the entire course of the interview, that the actress feared the consequences of her opinions. If you are one of those who missed her fiery interview, here's everything you should check out:
Here's what you'll get on Kangana Ranaut's interview on Aap Ki Adalat
She revealed some scandalous details of her affair with Hrithik Roshan 
She spoke volumes about how award functions are rigged 
Kangana even sheds light on how Women Commission was bribed by Roshans. 
Karan Johar and his nepotistic ways were also mentioned by Kangana. 
She narrated the incidents where she faced abuse in the hands of Aditya Pancholi 
Her first break in Bollywood to her first super-hit film, Kangana tells all on Aap Ki Adalat 
Kangana Ranaut Aap Ki Adalat Full Episode 
The full episode of Aap Ki Adalat featuring Kangana Ranaut was aired on India TV on Saturday at 10 pm. Whilst Kangana was uncovering the harsh realities of Bollywood,
Twitterati were having a field day on Twitter
. Thousands of people took to Twitter to express their views on Kangana's take on Bollywood biggies. Many stood in her support while some even bashed her for promoting her upcoming film Simran. 
Kangana Ranaut has blown the social media with headlines after her controversial episode on Aap Ki Adalat on Saturday. In the show, hosted by
Rajat Sharma
, the actress poured her heart out about Bollywood biggies in a manner, which nobody in the film industry has ever dared to. She spoke for a span of complete 40 minutes about Hrithik Roshan and her relationship with him. She unveiled all the shocking truths about her affair and consequent fallout with the actor. From legal notice to mental illness allegation, Kangana speaks up on everything.
Not only Hrithik Roshan, but other big names like Karan Johar and Aditya Pancholi were also on her target. Karan took a jibe, not one but many times on Kangana for her English diction and her belonging to an obscure village in Himachal Pradesh. She accused KJo for giving preference to lineage over talent, which bore him the title of 'Flag Bearer of Nepotism'. Show host Rajat Sharma has invited Hrithik Roshan and Karan Johar to put forward their stance on Kangana's allegations.