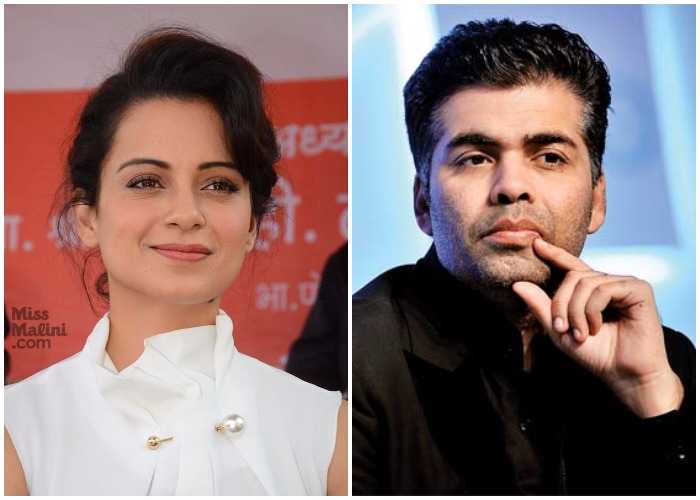 Kangana Ranaut is trending on social media for obvious reasons. The audacious actress blew the roof with controversial statements she made about Hrithik Roshan and many other familiar faces of Bollywood. Kangana featured on the most popular TV show Aap Ki Adalat, where she exuberantly answered the questions related to her past affair with Hrithik Roshan and Aditya Pancholi. She also mentioned the famous 'nepotism' debacle with Karan Johar. On his show, Koffee With Karan, she openly accused KJo for being the flag-bearer of nepotism and even labelled him as the 'movie mafia'. Even on Aap Ki Adalat, she reiterated the same opinion with same confidence. 
Also Read: Karan Johar is movie mafia: Kangana Ranaut stands her ground on Aap Ki Adalat
While the episode was being watched by millions of Indians on national television, Twitterati were waiting with bated breath for Karan Johar or Hrithik Roshan to put their stance forward on her statements. Hrithik Roshan has remained mum on the entire controversy till now, but KJo did post something very 'cryptic' on his Twitter. On Saturday night, he tweeted: 
Ungrateful people need a reality check!!!!!!!!

— Karan Johar (@karanjohar) September 2, 2017
Ungrateful people need a reality check!!!!!!!!
What happened actually was, Kangana Ranaut was asked by Rajat Sharma why he holds so many grudges from the filmmaker. Is it because he doesn't cast her in his film? But Kangana Ranaut answered this question in the most savage manner. She said, "I did one film for him and I had 10 minutes role in it. The movie was one among two biggest flop movies of mine'. 
Also Read: Anurag Basu hid me from Aditya Pancholi in his office: Kangana Ranaut in Aap Ki Adalat
According to Bollywoodlife, a source close to Karan Johar revealed that the tweet wasn't directed towards Kangana Ranaut. It was related to something that's happening in filmmaker's personal life. However, twitterati aren't buying this explanation for the tweet. In no time, the tweet was showered with hundreds of comments asking him to name the actress openly, instead of posting puzzling tweets. 
Watch Video:
For those who don't know about the famous Kangana Ranaut and Karan Johar fiasco, it all started when Kangana made an appearance on Koffee With Karan season 5 with her Rangoon co-star Saif Ali Khan. On the show, she called Karan Johar the flag bearer of nepotism and a movie mafia. The statement didn't go well with KJo who later asked her to leave the industry if she had so much of problems. The filmmaker was also slammed for his jibe on Kangana Ranaut on IIFA 2017 with Saif Ali Khan and Varun Dhawan. All three of them apologised to the actress for their remarks. 
For more entertainment news and updates, follow our Facebook page