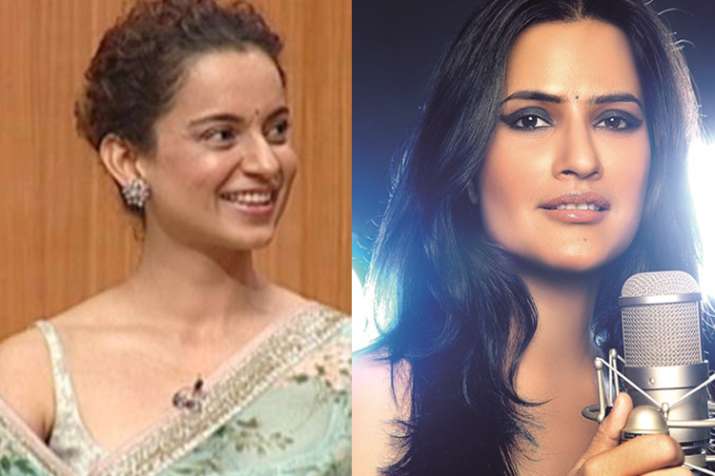 Actress Kangana Ranaut is in news once again, albeit not for her upcoming film Simran but for opening up on her controversial past that has set tongues wagging in Bollywood once again. The actress recently appeared on India TV's show Aap Ki Adalat that has now gone viral, and opened up like never before. She not only revealed startling details about her relationship with Hrithik Roshan but also demanded an apology from him and his father actor-producer Rakesh Roshan. Now, singer Sona Mohapatra, who is also known for not mincing her words, has reacted to the issue and posted a long message on social networking site Facebook.
The singer, in her post, called Kangana's interview as 'circus' and termed her revelations a promotional gimmick for her upcoming film Simran. She admitted that she has cheered the actress in the past and has been her fan of her but as Kangana has reopened the chapter of her fight, Sona stated that "it does a big dis-service to the cause of feminism & fair play."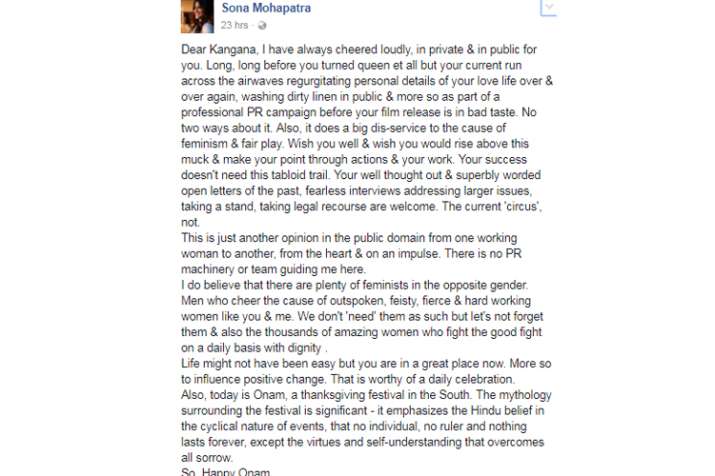 Sona Facebook post
Sona wrote, "I do believe that there are plenty of feminists in the opposite gender. Men who cheer the cause of outspoken, feisty, fierce & hard working women like you & me. We don't 'need' them as such but let's not forget them & also the thousands of amazing women who fight the good fight on a daily basis with dignity."
It all started in 2016 when the gorgeous actress referred Hrithik as her 'silly ex'. This didn't go down well with the actor, who slapped Kangana with legal notice. 
Now Sona Mahapatra slams celebrities and PRs
As soon as the singer wrote the open letter, there was a huge backlash over her views on the whole matter. The Ambarsariya singer then took to Twitter and in a series of tweets lashed out at 'paid PR and digital armies' of celebrities.
filmi bots,please note that I opine on a lot of issues on my pages.My life does not start-stop with bolly-land & I give a flying fuck for u.

— SONA (@sonamohapatra) September 5, 2017
I have also figured how your paid pr & digital armies work to keep your celebrities on the covers, in press & everywhere else. So, buzz off

— SONA (@sonamohapatra) September 5, 2017
​
& I am tired of a nation deifying just 1/2 category of people.I know of higher standards & we have to look beyond this celebrity circus trap

— SONA (@sonamohapatra) September 5, 2017
She even took a pot shot at Aditya Pancholi, who she said is "making a lot of noise".
Mr Aditya Panscholi, making some noise, do note. 👇🏽 pic.twitter.com/D3DqpgOtOE

— SONA (@sonamohapatra) September 5, 2017
Watch Kangana Ranaut's full interview on Rajat Sharma's Aap Ki Adalat
Also Read: This is how Twitter reacted after watching Kangana Ranaut on Aap Ki Adalat
Missed the show? Watch the viral episode of Aap Ki Adalat with Kangana Ranaut
For more entertainment news and updates, follow our Facebook page