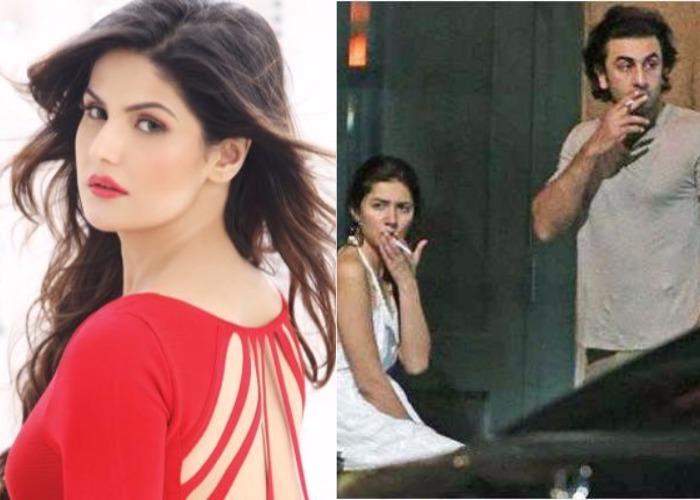 Pakistani actress Mahira Khan who was spotted recently smoking with Bollywood actor Ranbir Kapoor in New York, is being thrashed online for wearing a short dress and smoking. Social media has been divided into sections of those bashing her and the ones who are backing her. Latest buzz has also been indicating that the duo is in a secret relationship. While it isn't confirmed whether Mahira Khan and Ranbir Kapoor are dating, many popular names from the film industry are coming out in support of the actress. 
Mahira Khan was heavily trolled on social media for 'being a Muslim woman and wearing revealing clothes and smoking'. Ranbir Kapoor extended his support to the actress saying, "I've gotten to know Mahira in a personal capacity over the last few months. She is somebody who I admire and respect, for her achievements and even more for the person she is. It is very unfair the way she is being judged and spoken about. What is also sad is the inequality in judgment just because she is a woman. I request you to stop the negativity and move on with your beautiful god gifted lives. Peace and love," read his statement. "PS: Both smoking and hate are injurious to health."   
A number of celebrities, like Varun Dhawan, stood in support of the actress. On Sunday, Hate Story 3 actress Zareen Khan expressed her views on entire incident. In an interview with Indian Express, she told that it's time people started being less judgmental and let others be. She also said that this world would be a better place if everyone minded his or her own business than worrying about how to be a "protector" of mankind. 
"Oh! She is a girl, she is wearing a short dress and she is a Muslim, she is from Pakistan… I know all these things. But I think people should understand that everybody is an individual and rather than judging other people, you should take care of yours. If you like something, watch it. If you don't, then don't watch it. Everybody has an opinion, everyone behaves as if they are out to take over the world and correct the world, they give out these statements thinking this is how they are contributing to correcting the world by catching hold of a particular human being and trying to make them feel bad," she said
Actress Somy Ali, who also hails from Pakistan came out in defence of Mahira Khan. She said, "She (Mahira) is smoking a cigarette, why is this such a big deal? She looks sexy and beautiful in that dress and there's nothing wrong with that. I agree smoking is bad for you, but does it deserve ignorant nasty comments? Not at all. Mahira is old enough to know what she is doing; it's her prerogative. And haters are going to hate no matter what.''
Somy also said that stardom comes with a price. "She is very pretty and successful and that comes with a price, of course. But in the bigger scheme of things, this is quite petty and only the petty-minded would troll her. These comments are absurd and the epitome of ignorance, and those commenting seem to still be in the Stone Age,'' she adds.
Earlier, Ali Zafar also extended his support to Mahira Khan. He posted a picture on Instagram. "Every woman has the right to make her own choices in life as as long (as she's not hurting anyone else) just like we men do. How we react defines our own character. Choose wisely for we shall be judged.''