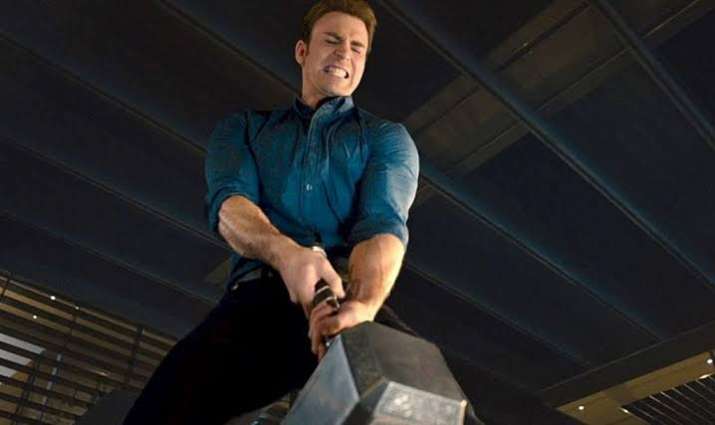 Avengers: Endgame is a full-on rager. The film helmed by Russo Brothers managed to rake in more than Rs 50 crore at the box office in India itself. It has collected more than Rs 2000 crore worldwide, inching closer to become the highest grossing film worldwide. While Avengers: Endgame continues to wreak havoc at the box office, fans can't contain their excitement over the iconic Thor-Captain America scene. If you haven't watched the film yet, you can stop reading this story as it may contain spoilers. 
Avengers Endgame India Box Office Collection Day 1: Marvel film sets new benchmark, rakes in Rs 53.10 crore
In the end fight sequence, there was scene when Thor loses his Mjolnir while fighting the mad titan Thanos. Captain America grabs the Mjolnir (Hammer) which no one else than Thor can hold, and pass it to the God of Thunder. This surprises everyone as no one else is worthy than Thor to hold the Mjolnir or Stormbreaker for that matter. But reaching its end, Captain America even lifts Stormbreaker, leaving the audience hysterical. 
The scene has left the fans going crazy with excitement. Here are the memes that are floating on the internet. 
EndGame is tight slap on those faces who were saying he is not worthy. #AvengersEndGame pic.twitter.com/bBevbqtwrB

— Kejriwal Jong Un (@LagbhagSecular) April 27, 2019
#AvengersEndgame spoilers without context

(remember these scenes, appreciate endgame better) pic.twitter.com/2GUsZBoifB

— Earvin C-137 ⎊ (@Earvin_C137) April 27, 2019
RIP Captain haters 🖤👐#AvengersEndgame #CaptainAmerica pic.twitter.com/7Fe6pUe371

— Amit Singh Rathore (@Ra_thor_amit) April 27, 2019
Then and Now. #AvengersEndgame #Thor #CaptainAmerica pic.twitter.com/Mmb7kGSfuJ

— ϟ Thor ϟ (@_Thunderbear) April 26, 2019
"Whosoever holds this hammer, if he be worthy, shall possess the power of Thor." #AvengersEndgame #CaptainAmerica pic.twitter.com/Sa7o3gOJSL

— Jongdae (@Nadineunice) April 26, 2019
Captain you had it with you all along , for all these years, you kept it hiding only for thor's ego. damn a true friend.
thts the best part, #worthy #Mjolnir

— jaguar (@JaguarRai) April 25, 2019
Also me when Cap wielded #Mjolnir!!! #AvengersEndame pic.twitter.com/nM0z4XjJkW

— Buddy Hustle (@7FiftyOUTLAW) April 26, 2019
On a related note, Chris Evans who plays Captain America in Avengers, revealed that he wants to have a family of his own. The actor who is single as of now, said, "'I really want kids. Yeah, I do. I like pretty pedestrian, domestic things. I want a wife, I want kids. I like ceremony.
"I want to carve pumpkins and decorate Christmas trees and s**t like that."
Read our Avengers: Endgame Movie Review Here