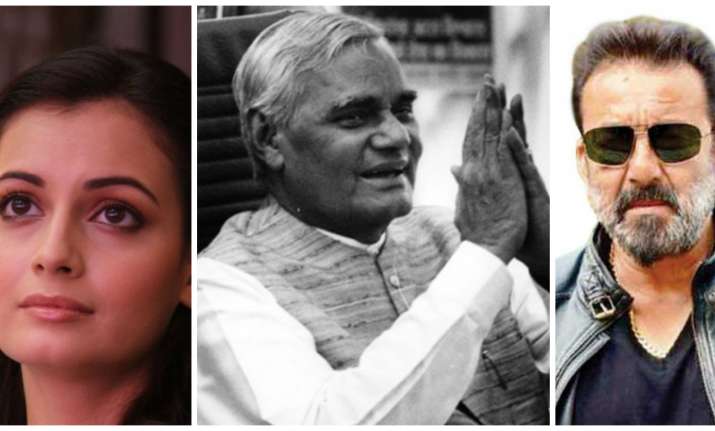 Former Prime Minister Atal Bihari Vajpayee, who is regarded one of the tallest figures of Indian politics passed away at the age of 93 at 5:05 PM in New Delhi today. He was hospitalised at (AIIMS) All India Institute of Medical Sciences since June 11 and his health has deteriorated in last 36 hours. As he was on life support and there was no improvement in his health condition, the entire nation prayed for the master orator. The statesman and the BJP stalwart was popular among masses not just because of his skills in politics but also because of his poems.
Vajpayee ji was a remarkable poet and orator. His poems struck a chord with masses. Even his opposition admired his oratory skills and used to pay attention whenever he recited his poems. His charisma was unbeatable even among other political parties.
Born on 25 December 1924 in Gwalior, he was the only politician who thrice served the position of Prime Minister. He was also the only parliamentarian to be elected from four states- Uttar Pradesh, Gujarat, Delhi and Madhya Pradesh. Atal Bihari Vajpayee was conferred Bharat Ratna, India's highest civilian honour by President Pranab Mukherjee in 2014. The BJP leader not only participated in movements during Emergency in 1975-77 but also went to the jail in 1942 during the freedom struggle.
Vajpayee ji completed his graduation from Victoria College (now Laxmibai College) in Gwalior and post-graduation from DAV College  Kanpur, Uttar Pradesh. His contribution to the field of literature is remarkable. He edited a Hindi monthly Rashtradharma, Hindi weekly Panchjanya and the dailies- Swadesh and Veer Arjun. His published works are Meri Ikkyavan Kavitayen, Kaidi Kaviraj Ki Kundalian (a collection of poems which he wrote in jail during Emergency), Amar Aag Hai (a collection of poems, 1994) among several others.
His demise has left a void in the politics of India which can never be filled. As tributes pour in from all the corners on social media, Bollywood celebrities also took to Twitter to remember the great leader.
I'm saddened to hear the demise of a great statesman Shri.Vajpayee ji. May his soul Rest In Peace.

— Rajinikanth (@rajinikanth) August 16, 2018
Former Prime Minister Shri #AtalBihariVajpayee's visionary ideas and contributions for India were truly remarkable. The nation will always remember... #RIP
My thoughts and condolences to the family.

— PRIYANKA (@priyankachopra) August 16, 2018
"Let no one challenge India's secularism." - Atal Bihari Vajpayee #Salute #Respect
Growing up in India in the 1980's and 90's one can never forget what a deep impact #AtalBihariVaajpayee ji made on us... he was a great statesman and leader. #RIP

— Dia Mirza (@deespeak) August 16, 2018
A Titan has departed. There was more impact and gravitas in the pauses between his words, than there are in the petty political speeches we hear these days. #AtalBihariVaajpayee

— VISHAL DADLANI (@VishalDadlani) August 16, 2018
Whether you agreed with him or not, you couldn't help but respect the sheer statesmanship, wisdom and eloquence of the man. RIP #AtalBihariVajpayee

— Vir Das (@thevirdas) August 16, 2018
Indeed a big loss for our country as we pay our last tribute to #AtalBihariVajpayee ji. He was a close family friend and his legacy will forever be remembered. Thank you for your selfless service, sir! My heartfelt condolence to everyone.

— Sanjay Dutt (@duttsanjay) August 16, 2018
It is rare to find love and respect across the entire politcal spectrum.

Atalji, was the rarest of them all.

Alvida #AtalBihariVajpayee.

— Boman Irani (@bomanirani) August 16, 2018
He was a rare statesman. #RIPAtalBihariVajpayee 🙏🏻

— Ayushmann Khurrana (@ayushmannk) August 16, 2018
Rishitulya purva pradhan mantri Bharat Ratna Atal Bihari Vajpayee ji ke swargwas ki vaarta sunke mujhe aise (cont) https://t.co/1w1sEjs1eB

— Lata Mangeshkar (@mangeshkarlata) August 16, 2018
Respect always #AtalBihariVajpayee sir.... RIP 🙏

— Huma Qureshi (@humasqureshi) August 16, 2018
One of the few statesman who brought dignity and esteem to politics. His dream and steadfast application of Road connectivity changed and continues to change millions of lives in our country. Bowing with respect to our beloved leader #AtalBihariVajpayee ji.

— rajamouli ss (@ssrajamouli) August 16, 2018
Heartfelt condolences to #AtalBihariVajpayee ji's family and dear ones. May his soul rest in peace. 🙏

— Arjun Kapoor (@arjunk26) August 16, 2018
RIP #AtalBihariVaajpayee ji! 🙏🏻🙏🏻🙏🏻🙏🏻respects and prayers for a true leader.

— Divya Dutta (@divyadutta25) August 16, 2018