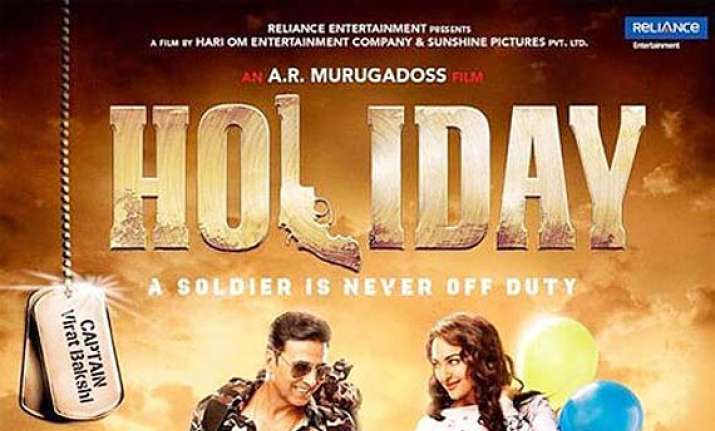 Akshay Kumar and Sonakshi Sinha starrer 'Holiday' is out with its first poster. In the colourful poster, the film looks a perfect entertainment package with Akshay Kumar in his much anticipated 'soldier' character and Sonakshi as a shy, blushing lady.
The poster shows the duo rejoicing their chemistry and love bond as Akshay holds the hand of the lady and Sonakshi glazes at him. A very interesting element of the poster is that chain that hangs to the name of the film introduces the core character, Virat Bakshi played by Akshay Kumar.
The enchanted pair, Akshay-Sonakshi has  created wonders on screen prior to this upcoming flick and garnered enough raving views for their intriguing on screen camaraderie. The film seems to be a fresh attempt to roast Akshay's 'khiladi-action' image.
Produced by Vipul Shah, 'Holiday' is an action thriller film written and directed by A.R. Murugadoss. The film fully titled as 'Holiday: A Soldier Is Never Off Duty' stars Govinda too in a supporting role.
We wish the movie best and hope the Akshay-Sonakshi's bond create magic on screen!