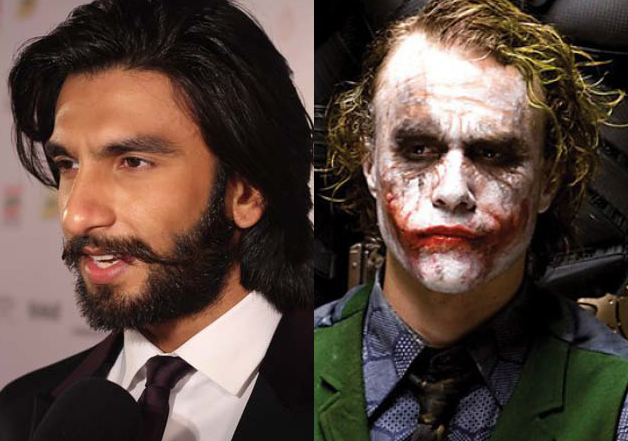 Actor Ranveer Singh is prepping up for his role of Alauddin Khilji in Sanjay Leela Bhansali's magnum opus 'Padmavati'. With all eyes on him to deliver yet another powerful performance, the man himself is quite scared. During an interview to a leading entertainment magazine said that he is worried he might not get out of the role and likened it to Heath Ledger's role in 'The Dark Knight'.
For Christopher Nolan's 'The Dark Knight', Heath Ledger did immense preparations. He played the role of Joker, which is regarded as one of the finest performances in cinema history. To achieve perfection, the late actor had locked himself in a hotel room in London.
And Ranveer is scared that for his role of the cruel Sultan he might do something similar to this. He said that he is frightened that he may get so engrossed in the role that it would be difficult for him to snap out of it.
Citing Heath's example, Ranveer said just like the role of Joker took everything from him, Padmavati's might give him the same treatment.
He said,
"I'm scared of stepping into that rabbit hole. I fear if I go in, I may not come back. Like Heath Ledger. He didn't come back. He went so far into the rabbit hole that it took away everything from him. I can say I'm living life on the edge."
Ranveer further said that he is petrified and might need mental therapy to come out of it.
"It does affect me to that degree. Hopefully, after Padmavati, I will do something light to keep a balance. I need time to recover," added Ranveer.
This is not the first time that Ranveer will be giving his everything into a movie. For his last collaboration with SLB, 'Bajirao Mastani', he went through some tough phases. After the movie he had accepted that it took a toll on him which is why he agreed to 'Befikre', a rom-com flick helmed by Aditya Chopra.
Ranveer's role in 'Padmavati' will have stark differences with that of 'Bajirao Mastani'. He will be donning a shoulder length wig for the same. The movie also stars Deepika Padukone and Shahid Kapoor.