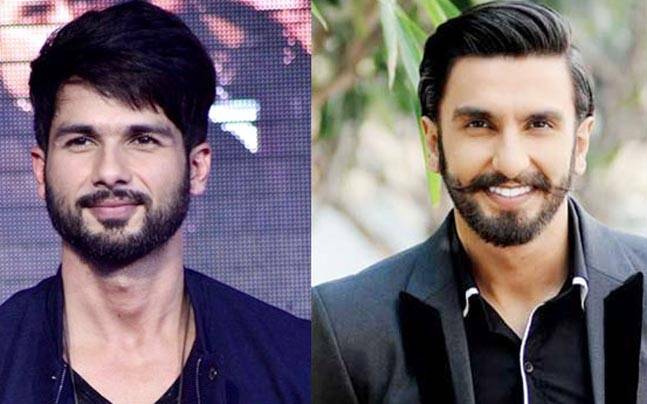 Actor Ranveer Singh has rubbished the reports of tiff with co-actor Shahid Kapoor for their upcoming magnum opus 'Padmavati'. The actor stated said he is not just excited for 'Padmavati' but feels that Shahid Kapoor would add value to the periodical drama.

 

Interestingly, the reports about the spat between Ranveer and Shahid have been rife ever since the two were finalised for the movie.

 

It was reported that the two actors were having ego clashes over the fees and screen time of their characters. In fact, it was also stated that Singh had issues with Sasha's role being extended and asked to SLB to chop down Shahid's role failing which he would walk out of 'Padmavati'.

 

But contrary to the reports, the 'Befikre' actor stated that he never interferes in the casting decisions of a movie until it is asked for. In fact, Ranveer had committed to the movie without reading the script and regardless of the star cast. He further revealed that the sole reason he agreed for 'Padmavati' was because it was a challenging.

 

"I knew that it would be a maverick move and could be a risk. But, I listened to my instincts and went ahead with it, so there was no question of opting out", he told a leading daily.

 

Ranveer also mentioned that when Bhansali had approached him for 'Padmavati' he thought it was going to be a beauty versus beast kind of script and wasn't aware of the third part.

 

It was only after he came back after he came back post shooting for 'Befikre' that Singh got to know about Raja Rawal Ratan's role in the story. The actor also emphasised that during the discussion about the cast with SLB it was him who told the makers 'We should get the best possible actor to play this part'.

 

Apparently, there were reports that Bhansali is so miffed with Ranveer's attitude towards the movie that he has decided not to collaborate with him in the future. To this Ranveer stated that he was SLB's blue-eyed boy and will always be.

 

RV also referred to SLB as the biggest contributor of his career and feels honoured to be a part of the movie. This is the third time Bhansali is teaming up with Ranveer Singh. The two had earlier worked in 'Goliyon Ki Raasleela Ram-Leela' and 'Bajirao Mastani'.

 

Meanwhile, after all the speculations and rumoured tiffs, 'Padmavati' hit the floors yesterday.

 

The movie which features Deepika Padukone in the lead, is touted to release in December 2017.