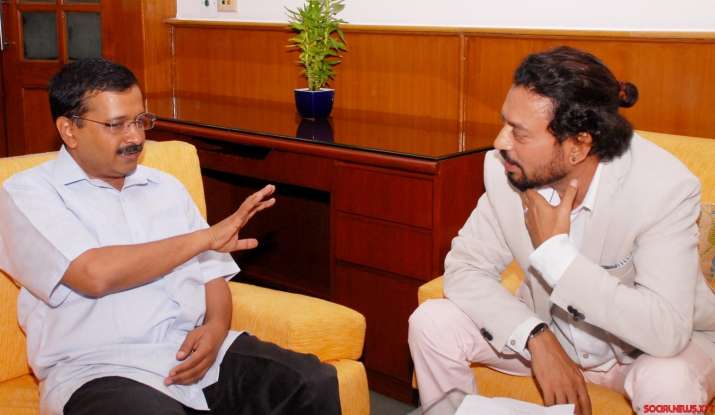 New Delhi: Seems actor Irrfan Khan has taken promotions for his upcoming movie 'Madaari' to a whole new level. Yesterday he met Delhi Chief Minister Arvind Kejriwal as a common man and had a long conversation with him. He discussed with the CM the changing political scenarios of the country and about freedom of expression.
Irrfan, who earlier met and interviewed Rashtriya Janata Dal (RJD) chief Lalu Prasad during his visit to Bihar capital Patna recently, had a candid chat with Aam Aadmi Party convenor Kejriwal as a part of promotional activity for his film "Madaari".
During his 30-minute interaction with Kejriwal, Irrfan asked various questions like how to be part of the system, about freedom of expression, and changes in the politic arena.
Often called India's most popular export to Hollywood, Irrfan reached out to Kejriwal to fix a meeting via Twitter. He also called Congress Vice President Rahul Gandhi and Prime Minister Narendra Modi.
While a post from Gandhi's official Twitter handle responded to the actor's offer, Modi's PMO India Twitter handle asked him to address a letter to him.
"Madaari", which explores a father-son relationship and traces the plight of a common man who loses his son in an accident, also features Jimmy Sheirgill in a pivotal role. The film is slated to release on July 22.
With IANS inputs