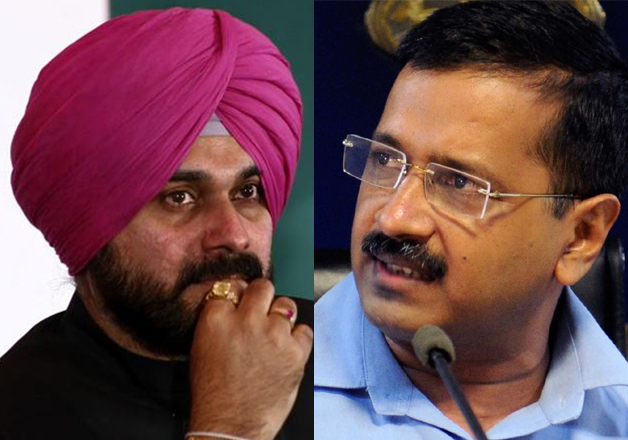 New Delhi: Known for playing with words, former BJP leader and Amritsar MP Navjot Singh Sidhu will have to deal with his past to make way for a bright political future. In the news for delivering a blow to the BJP ahead of the polls in Punjab, the former Rajya Sabha MP is now tipped to be the face of the Arvind Kejriwal-led Aam Aadmi Party in the poll-bound state.
However, there is a lot from the past that both Kejriwal and Sidhu will need to deal with before they chalk out the road ahead in the state. For, not too long ago, Sidhu was a fierce critic of Kejriwal and had castigated him on several occasions. There is good reason why Sidhu may end up regretting some of the remarks he made about the Aam Aadmi Party chief.
In one of his attacks on the Delhi CM, the cricketer-turned-politician dubbed him as a 'nautanki' (drama) during an election campaign. 
Criticising his to-be leader for contradicting his own statements, Sidhu had earlier said, "I will never join politics. Created the Aam Aadmi Party. I will never take security cover. Took the Z security. I will not take a bungalow. Took a bungalow and started sweeping the floor himself. Am I lying?"
The jibes did not end there. The former cricketer also lashed out at Kejriwal for his frequent strikes. "Protest here, protest there, protest here, protest there. In place of Jantar Mantar, call it Kejriwal's drama company," Sidhu was heard saying in a video.
Now, with multiple reports suggesting his entry in to the Aam Admi Party, it is to be seen how this brilliant orator defends his remarks on the party chief.
The 52-year-old had yesterday submitted his resignation from the Upper House of the Parliament. His wife has confirmed that Sidhu's resignation from the BJP should automatically be considered implied following his resignation from the Upper House. 
Meanwhile, Kejriwal and his party's top leaders, who are looking to make some serious inroads into the Punjab polity, have lapped up Sidhu's decision, hailing it as a bold step against corruption in Punjab. 
"People can give their rt hand for an RS seat. Ever seen a sitting RS MP resigning to save his state? I salute Sidhu ji for his courage, (sic)" the Delhi CM tweeted.
While there is no indication of any tensions between for now, Sidhu, a commentator par excellence, had once famously said: "Pitches are like wives. You never know which way they will turn."
One hopes Sidhu's decision does not steer his political career towards a dead-end.