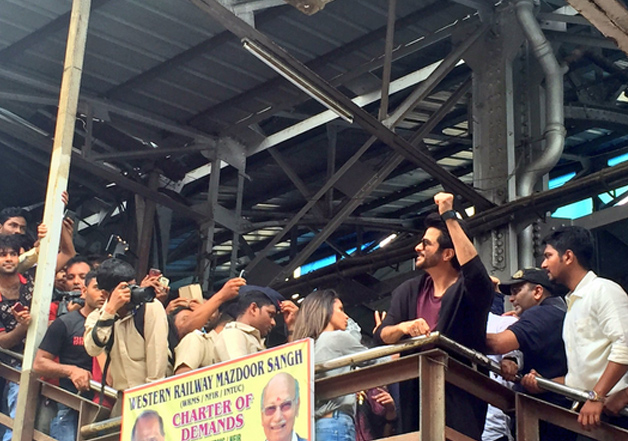 New Delhi: In his quest to promote the second season of series 24, actor Anil Kapoor travelled in a local train yesterday. Though, his stint became a headline it did not go well with Railways. The production house of '24' has been slapped with a legal notice from the Western railways for not following safety measures.
"Inspite of the terms and conditions to adhere strictly to safety and security during shoot, Anil Kapoor allegedly seems to be leaning from the footboard of a local train during a promo shoot on July 14," said an official of the Western Railway.
This was clearly observed from videos and photo uploaded on various social media networks, the official added.
Now, the Western Railway has sought an explanation from the production house Messrs. Market Men Consumer & Events Pvt. Ltd. in this regard.
Anil undertook a short local train journey from Churchgate station accompanied by hordes of fans and media persons in tow to promote his upcoming television action-drama series, "24: Season 2".
An adaptation of the popular American TV series "24", it will mark his return to the small screen in the role of Jai Singh Rathod, to be aired on Colors channel from July 23.
The Western Railway official explained that by leaning out of the running train from the footboard, the actor could inspire youngsters to perform similar stunts.
Beset with many such instances in the past when youngsters performing daredevil stunts have been killed or permanently maimed, the railway authorities have regularly campaigned for safety and security during train commutes.
Besides his live action, Anil also interacted with local train commuters and shared photographs of his commute on social media sites.
With inputs from IANS