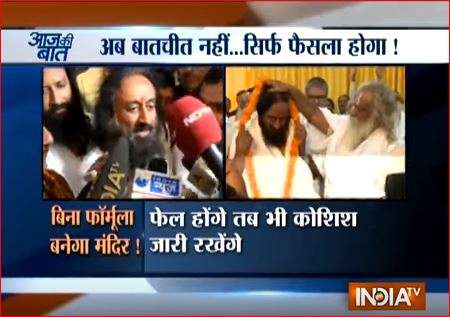 Except for MIM chief Asaduddin Owaisi and some leaders of his own ilk, most of the leaders, both Hindu and Muslim, have welcomed Sri Sri Ravi Shankar's Ayodhya initiative. They respect his stature and sincerity. The Ayodhya dispute is almost 500 years old. Legal cases have been pending since last 150 years. There have been hundreds of incidents of violence. There have been thousands of rounds of negotiations. 
A solution should have come out through negotiations by this time. This is not an issue that concerns some individuals or organisations. This is an issue of faith. Most of the Hindus want that a Ram temple should be built. But there is no unanimity among Muslims. 
It is true that most of the peaceloving Muslims want this festering dispute to end and a temple be built, but some Muslim individuals and organisations are not in favour of an out-of-court settlement. Many of these individuals are rich and influential. Since one side is opposing out-of-court settlement, the final decision will now rest with the court, and the court's decision shall be final and binding. 
The only way out now is for all sides to wait for the apex court's judgement. Sri Sri Ravi Shankar's efforts will at least help to tone down tempers and narrow down the gulf that exists between both sides on this vexed issue.
Watch the full episode here:
Aaj Ki Baat: Monday to Friday, 9 PM
India's Number One and the most followed Super Prime Time News Show 'Aaj Ki Baat – Rajat Sharma Ke Saath' was launched just before the 2014 General Elections. Since its inception the show is redefining India's super prime time and is numerically far ahead of its contemporaries.