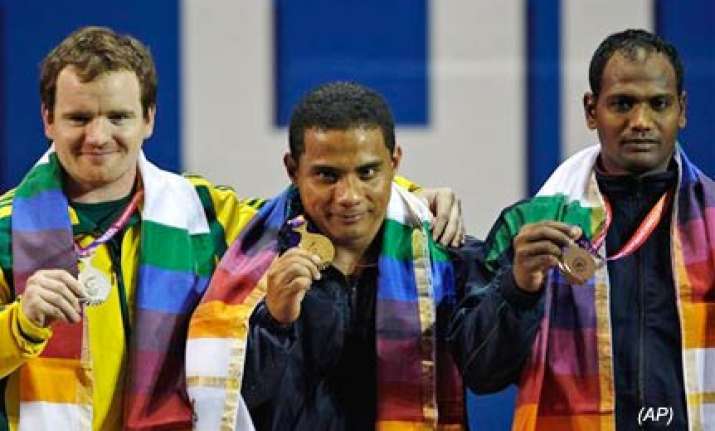 New Delhi, Oct 7: India's CPR Sudhir Kumar today expressed disappointment over his performance, despite winning a bronze medal in men's 77 kg weightlifting event, saying that he hardly deserved it.  
Lady luck smiled on Sudhir Kumar after one of the frontrunners   Nigeria's Felix Ekpo failed to lift weights in any of his three attempts in clean and jerk event, handing the Indian the third spot and second position to Australian Ben Turner, here at the Jawaharlal Nehru stadium sports complex.  
It was only Yukio Peter of Nauru who deservingly bagged the gold medal finishing far ahead of his opponents.  
"It was completely an unexpected medal today. We feel really bad for the Nigerian lifter. But I guess it is all a part and parcel of the game. But Sudhir did not perform well on his part. We were expecting a total lift of 310 kgs from him but he could only lift 297 in all, which was disappointing," said coach Harnam Singh.  
The Indian lifter was far from impressive as he could only lift 131 kgs in his first attempt in snatch event and failed in his next two attempts to lift 136 kgs.  
Meanwhile, Yukio Peter, the best-credentialed lifter in any division, performed as per expectations, creating a new Commonwealth Games record in snatch event by lifting 148 kgs to break Satheesha Rai of India's previously held record.  
However, it came as a surprise when Felix Ekpo also finished the snatch event with a successful lift of 148 kgs to be placed at No. 1 position along with Peter.  
The next best lifters in the snatch event -- Ben Turner of Australia (133 kgs), Cyprus s Alexandros Amanatides (132 kgs) and India's Sudhir Kumar (131 kgs) finished far below the top two lifters.
"I did not do well in snatch, which I should have. I am good at snatch and I was doing well in practice also but today I could not perform well. I was unlucky not to lift the weights successfully during the competition," said Sudhir, adding, "however luck turned by the end of the competition as I could pick up a bronze medal for India."  
After finishing on a disappointing note in snatch (131 kgs), Sudhir also failed in clean and jerk as he could lift a maximum of 166 kgs to get to a total of only 297 kgs, to be placed behind the top three lifters.  
The silver medallist Ben Turner, who won gold in the 69kg category in Melbourne in 2006, had stepped up to the 77kg class in Delhi Games, could make up for a total of 308 kgs at the end of both the events (133 in snatch and 175 in clean and jerk).  
On the basis of which he acquired the third position, leaving the top two lifters   Peter and Ekpo from the snatch event to fight for the top honours.  
"I was trying to fight for bronze medal with Ben Turner as I knew that the top two spots were already reserved for Peter and Ekpo," said the 31-year-old Indian lifter.  
Predictably, at the very first attempt of 185 kgs lift in clean and jerk event, the Nauruan star Peter moved far ahead with a total of 333 kgs and ultimately it never made any difference to the final result that he could not lift 188 kgs in his consecutive two attempts. However, he could not break the 'clean and jerk' and 'total' records.  
Unfortunately for Ekpo, who was supposed to at least finish second in the competition, failed in all his three attempts in clean and jerk event to lift 185 kgs and got disqualified to the delight of the Indian fans.  
"I know everyone is happy with the medal. I am also happy. I am suffering from a back problem, otherwise I feel I could have lifted 136 kgs in snatch and would have finished with nearly 310 kgs overall. Now, I hope to get well soon and work hard for Asian Games and do well in Guangzhou in China," said Sudhir. PTI