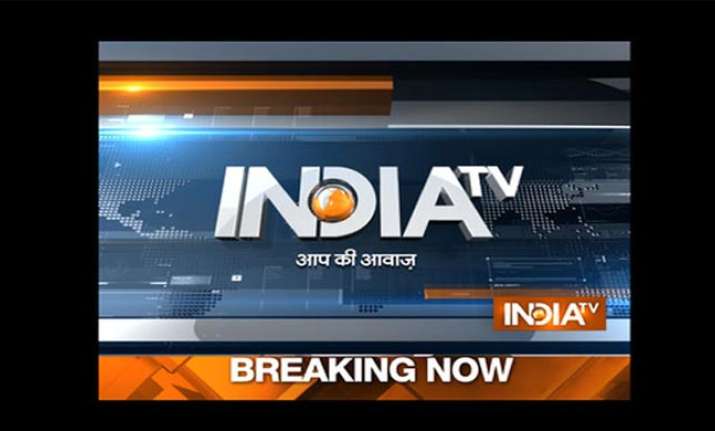 National News
Debris found in Tanzania belongs to missing Airlines flight MH370, confirms Malaysia
A large piece of debris discovered on the island of Pemba, off the coast of Tanzania, in June was part of missing Malaysia Airlines flight MH370, Malaysia confirmed today.
Shivpal to remain in party, not in government: Mulayan Singh Yadav
Speaking out for the first time since controversy broke in Uttar Pradesh's first family, Samajwadi Party supremo Mulayam Singh Yadav today told India TV that Shivpal Yadav, who was stripped of key portfolios by CM Akhilesh Yadav late on Tuesday evening, will remain in the party and not join Akhilesh's Cabinet again.
Two Indian teachers held captive in Libya rescued, confirms Sushma Swaraj
Two Indian teachers who were abducted in Libya's Sirte, an area controlled by the Islamic State, over a year ago have been released, External Affairs Minister Sushma Swaraj said on Thursday.
Party leadership made a mistake by removing Akhilesh as UP SP chief: Ram Gopal Yadav
Senior Samajwadi Party leader Mulayam Singh Yadav's cousin Ram Gopal Yadav today said that party leadership made a mistake by removing CM Akhilesh Yadav as party's state unit chief without consulting with him.
Controversy over Shahabuddin's release needless, court granted him bail: Lalu Yadav
Rashtriya Janata Dal (RJD) supremo Lalu Prasad Yadav today said that there should be no controversy over the release of former RJD MP Mohammad Shahabuddin from jail because he was granted bail by the court.\
International News
Donald Trump's investments in India could impact American foreign policy if he becomes next US President: Report
Republican presidential candidate Donald Trump's real estate investments in Indian cities including Pune and Gurgaon may impact US foreign policy in case he becomes the next President of the United States, according to a report in 'Newsweek'. 
China, Pakistan enabling North Korea's nuclear program, may face sanctions: Experts
US-based experts said that China and Pakistan are 'passive enablers' of the North Korean nuclear program and may face some secondary sanctions for violating UN approved sanction.
Pneumonia-hit Hillary Clinton used a body double, claim conspiracy theorists
Conspiracy theorists have claimed that Democratic presidential nominee Hillary Clinton used a body double after she nearly fainted at a 9/11 memorial event on Sunday in New York.
Business News
After iPhone 7 launch, Apple slashes iPhone 6S and 6S Plus price by Rs 22,000
In a major development ahead of the festival season in India, smartphone giant Apple has effected a massive price cut in the prices of iPhone 6S and 6S Plus by up to Rs 22,000. The development comes just days after the Cupertino-based tech giant launched the much-anticipated iPhone 7 at its annual event. 
SC directs Parsvanath to deposit Rs 12 crore within four weeks
The Supreme Court on Thursday directed real estate developer Parsvnath Buildwell to deposit Rs.12 crore with the court's registry in four weeks.
WhatsApp will not share content of user data with Facebook : Delhi High Court told
Instant messaging service WhatsApp on Wednesday informed Delhi High court that it would not share the content sent by users to its parent company Facebook (or its affiliate entities),as the company provides end-to-end encryption.
Entertainment News
Emraan Hashmi just refused a movie opposite Alia Bhatt! And his reason is valid!
Actor Emraan Hashmi, who is known as Bollywood's serial kisser, has recently refused a movie opposite Alia Bhatt. The rumours mills are churning with reports that the "Raaz Reeboot' actor was offered a film with the 'Highway' actress but Hashmi  bluntly refused it.
Is Salman Khan set to marry Iulia Vantur in November? Check what insider has to say
Superstar Salman Khan is reportedly all set to tie the knot with rumoured girlfriend Iulia Vantur in November this year.
Time to leave planet: Twitter erupts after news of Katrina being conferred with Smita Patil award
Actress Katrina Kaif will be on September 19 given the prestigious Smita Patil award for her contribution to Hindi cinema. The award is conferred on to people for their show of excellence in the field, and Twitter users seem to have a problem with this. As soon as this news saw light of the day, netizens came up with funny questions on the micro-blogging site, most of which was centred around just one question- Why Katrina?
Sports News
Paralympians deserve highest recognition and awards: Milkha Singh
Legendary athlete Milkha Singh today said that paralympics deserve the highest recognition and awards that the country can bestow upon them as they are the perfect examples of what can be achieved against all odds.
My willpower inspiration behind second gold medal: Paralympics gold medallist Devendra Jhajharia
Devendra Jhajharia, who has emerged as the new poster boy of Indian athletics after bettering his own World record to claim his second Paralympics gold, feels it is his "willpower" which kept him going despite all the hardships.
WOW! R Ashwin's FITTING reply to a Pakistani who mocked India's Paralympics performance will make your day!
The last time when Pakistani journalist Omar Quraishi mocked Indian athletes' performance in Olympics, we all know how the Indian Twitterati – from legendary actor Amitabh Bachchan to cricketing great Virendra Sehwag – trolled him back.