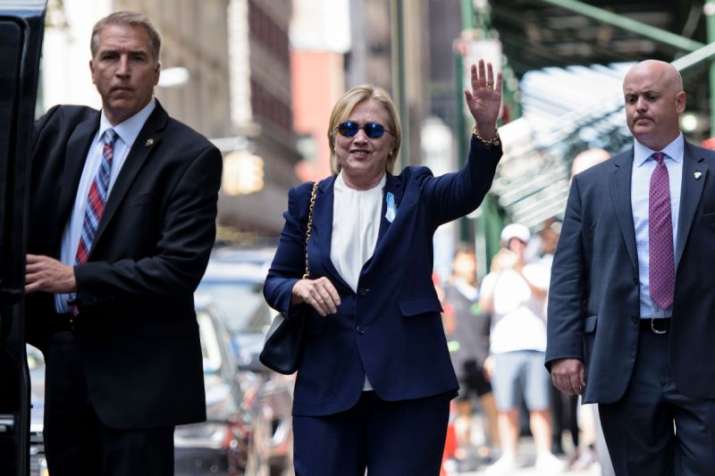 Conspiracy theorists have claimed that Democratic presidential nominee Hillary Clinton used a body double after she nearly fainted at a 9/11 memorial event on Sunday in New York. 
Social media users have begun sharing photo comparisons of the Democratic candidate as she was seen coming out of her daughter Chelsea Clinton's house after she suffered the dizzy spell. 
68-year-old Hillary, who later announced that she was suffering from pneumonia, was taken to her daughter's home in New York to recover. 
She later emerged from Chelsea's apartment wearing sunglasses and smiling broadly and claimed that she felt great. 
Hillary claimed that she did not faint but simply felt dizzy and stumbled. 
She said that after resting for some time at her daughter's home, she immediately started feeling better.
However, critics say that the woman who emerged from Chelsea's apartment had clear physical differences to Mrs Clinton, leading to suspicions that she may have employed a lookalike. 
A conspiracy theorist and Donald Trump supporter took to Twitter to compare the photographs of Hillary Clinton and the woman who emerged from Chelsea's apartment and claimed that the index finger of that was longer than the ring finger and that she was not Hillary. 
Others also analysed Clintons' ears, cheekbones, nose smooth versus wrinkled skin and body composition claiming that they looked different to usual. 
I believe #ClintonBodyDouble
Why? Came out Apt. -Looking & saying "feeling great" -yet cancelled California.#fraud pic.twitter.com/xJYOA0vgV0

— Manny_Ottawa (@manny_ottawa) September 12, 2016
#HillarysBodyDouble trended-a side by side comparison raises some uncomfortable conspiracy questions #USelections pic.twitter.com/pABe6TMkgu

— Monica Jasuja (@jasuja) September 12, 2016
A woman claimed that the woman who left Chelsea's apartment couldn't have been Hillary because she was not surrounded by 'secret service' agents.
On the other hand, Hillary's doctor on Wednesday confirmed that she is "fit to serve as President". 
"She is recovering well with antibiotics and rest," said her doctor, Lisa Bardack, in a letter released by her campaign. "She continues to remain healthy and fit to serve as President of the United States."
The health episode fuelled long-simmering conservative conspiracy theories about Clinton's health and provided a fresh line of attack for rival Donald Trump, who has frequently questioned whether Clinton has the stamina to serve as commander in chief.