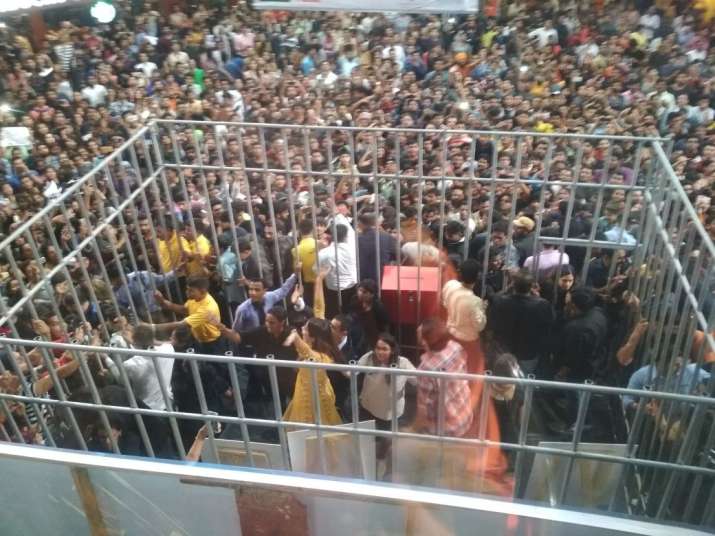 After the BB Museum task, it is now time for the contestants to visit the outside world after almost three months inside the Bigg Boss 11 house. The nominated housemates Vikas Gupta, Hina Khan, Shilpa Shinde and Luv Tyagi are all set to visit Inorbit mall Mumbai where live voting will take place. Fans have gathered in vast numbers to see and vote for their favourite contestant. The contestant who received the least number of votes will get eliminated from the reality show. 
The nominated contestants are all geared up to step out to meet their fans. Catch all the excitement tonight at 10:30 PM on #BB11. #BBSneakPeek pic.twitter.com/eu0LxLfom5

— COLORS (@ColorsTV) January 5, 2018
Before going to the mall for live voting, the housemates would have to convince the others that they deserve a chance to be in the finale. Apart from that, they would also have to defend themselves with discussions and debates over accusations put on them by the rest of the contestants.
The #BB11 housemates take a dig at each other during the debate session. Witness the drama tonight at 10:30 PM. #BBSneakPeek pic.twitter.com/B9tkq43JId

— Bigg Boss (@BiggBoss) January 5, 2018
Here are the LIVE Updates of Bigg Boss 11 Day 96 January 5 96 Episode
11: 30 pm: Bigg Boss call the four nominated inside the confession room. The ballots are still in the box and Hina, Shilpa, Vikas and Luv are visibly nervous.
11: 20 pm: Shilpa  and Puneesh make fun of Hina Khan. Shilpa says that Hina did a lot of overacting inside the mall. Puneesh laughs and says that even Hina has yellow teeth.
11: 15 pm: The four contestants are once again inside the Bigg Boss 11 house. Vikas says that he is extremely surprised to see such overwhelming response from the public. Luv tells Puneesh that Shilpa Shinde fans were there at the mall in huge numbers and he is sure that Shilpa will win the mall task.
11: 10 pm:  Hina, Luv, Shilpa and Vikas reach inside the Inorbit mall Mumbai.Fans crowd all around them, throng their cage while Akash and Puneesh soak in the hot tub. Keeping security concerns in mind, the four contestants were taken out of the mall. The public cast their ballots in the absence of the four contestants.
11: 06 pm: Shilpa is the fourth one to go. Vikas says to Shilpa that she doesn't participate in any one of tasks.. Hina agrees and says that she is extremely confident of winning and always boasts of having a huge fan following.
11:04 pm: Vikas accuses Luv of playing dirty game. "You always see opportunity and never return back", Vikas says to Luv.
10: 58 pm: Vikas is the third one to go. He gets slammed by Hina and Puneesh. Hina tells Vikas that after his friends on the show were eliminated, he lost interest in the game. But Vikas says that's not true. Puneesh tells Vikas that he may be a mastermind but whenever he sees the game slipping from his hands, he gets depressed as he is very weak emotionally.
10:50 pm: Hina and Luv get into a major fight as the two start accusing each other of being selfish friends, Hina starts crying as she feels really hurt with Luv's behaviour. Luv says he has never been selfish and being called that by Hina was very hurtful. Vikas tries to play peacemaker, urges both of them to forgive and forget, but they refuse to do so. Hina says aloud that she wants to be eliminated as she doesn't want to stay in the house anymore.
10: 48 pm: Luv faces the contestants next and Vikas is the first one to grill him, Vikas says that Luv overacts. Shilpa and Hina agree.Hina says that he has played so well that even when he was nominated along with Hiten Tejwani or with Priyank Sharma, he is the one who got saved. 
10:45 pm: Hina is the first one to get roasted by the housemates as they start debating as to whether she deserves to stay in the house or not. Akash tells Hina she is not a good sanchalak, and that she plays dirty. Hina refutes it. Shilpa tells Hina that she overreacts to every situation. Hina tells Shilpa that she is wrong. Luv tells Hina that even though he had told her he will be siding with Puneesh before the task, and she had agreed to it, she still got ego hurt when Luv sided with Puneesh and she forgot all the rules of the task to get ahead. Puneesh too says she overreacts, and she is not a good listener, she can only talk.
10: 40 pm: The contestants will have to participate in a debate in which they can tell each other what they think of each other and why they deserve or don't deserve to stay in the show. 
10: 37 pm: The contestants are shocked to hear about the live voting. Hina says she is excited to step out of the house, but she says that Shilpa has an advantage as she is a Maharashtrian and the mall is in Maharashtra.
10: 35 pm: Bigg Boss announces that the four nominated contestants Hina Khan, Shilpa Shinde, Vikas Gupta and Luv Tyagi will be visiting a mall today and request fans to vote for them. The person who gets the least number of votes will get eliminated from Bigg Boss 11.
10: 30 pm: The contestants wake up to Main nikla gaddi leke, and start dancing to the fullest. Shilpa Shinde tells Luv Tyagi to apologize to Hina Khan and forgive and forget. However,  Luv is not very enthusiastic about it. Akash joins in the conversation.