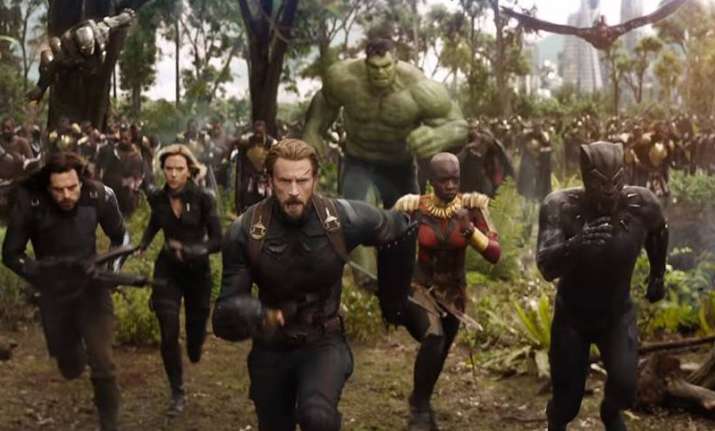 The latest Super Bowl trailer for Avengers: Infinity War is out now. The video was released during the event on Monday morning, and it surely looks like one of the biggest movies ever made. Robert Downey Jr will be back as Iron Man as will Chris Hemsworth as Thor, Chris Evans as Captain America, Chris Pratt as Star-Lord, Scarlett Johansson as Black Widow, Benedict Cumberbatch as Doctor Strange, Tom Holland as Spiderman, Chadwick Boseman as Black Panther and Elizabeth Olsen as Scarlet Witch.
By the looks of it, the movie promises to be a delicious mess. All the superheroes are teaming up against Thanos, the evil space god, who last graced the screen in 2015's Avengers: Age of Ultron. Thanos had made heads turn as a full-time villain in James Gunn's Guardians of the Galaxy.
Directed by Anthony and Joe Russo, 'Avengers: Infinity War' stars Robert Downey Jr., Josh Brolin, Mark Ruffalo, Tom Hiddleston, Chris Evans, Chris Hemsworth, Jeremy Renner, Chris Pratt, Elizabeth Olsen, Sebastian Stan, Benedict Cumberbatch, Paul Bettany, Chadwick Boseman, Benedict Wong, Zoe Saldana, Karen Gillan, Vin Diesel, Dave Bautista, Pom Klementieff, Scarlett Johansson, Don Cheadle, Tom Holland, Bradley Cooper, Sean Gunn, and Anthony Mackie and will assemble in theaters on May 4th, 2018.
For more entertainment news and updates, follow our Facebook page