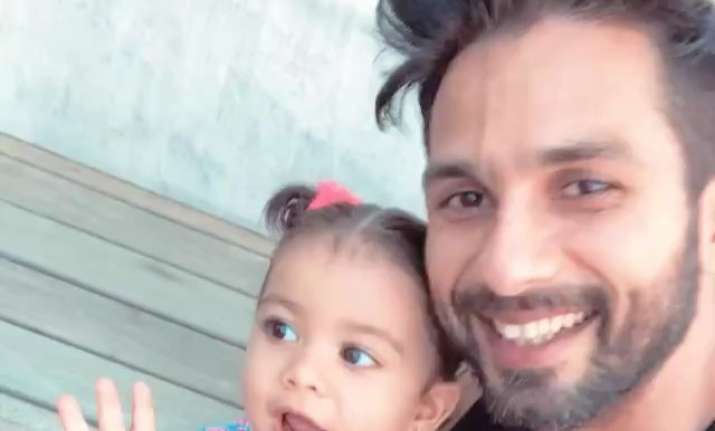 Just like Taimur Ali Khan, Misha Kapoor is one celebrity kid who gets lot of attention from the media. Right from playing in a park to taking a stroll with mother Mira Rajput, the little munchkin grabs the spotlight each time. Now, father Shahid Kapoor has come to the forefront to speak on the celebrity status of his daughter Misha. The actor, who was last seen in Sanjay Leela Bhansali's Padmaavat, revealed that feels guilty that his baby girl is subjected to such pap frenzy because he is her dad, and he hopes she learns how to deal with such attention as she grows up.
"My daughter didn't choose this glamorous life. What's her fault? I hate to think of all the glare that's on her. That is probably the only time I feel I should have had another job. I don't want her to deal with it. It's not good for children to go through this. They have a right to a normal childhood", Shahid Kapoor was quoted as saying to Mid-day.
That his stature in Bollywood is a possible cause of distress for Misha is difficult for him to accept. "She has to deal with it because I am her dad. It's tough for me, as a parent, to make peace with that. I hope she will learn how to tackle it when she grows up.
Speaking of his own childhood, the actor said that though he was born to two actor parents — Pankaj Kapur and Neelima Azim — he had a regular, middle-class childhood. "No one knew I was Pankaj Kapur's son till I joined the industry. It was only after an IMDB page about me was made that people discovered who my father is. So, I had a regular middle-class childhood, devoid of attention."
Shahid Kapoor  also believes that he should be an example for his daughter, someone she will look up to. "I am responsible for my daughter and must be an example for her. I have to be a good human being first, a good actor later," added Sasha in the report.