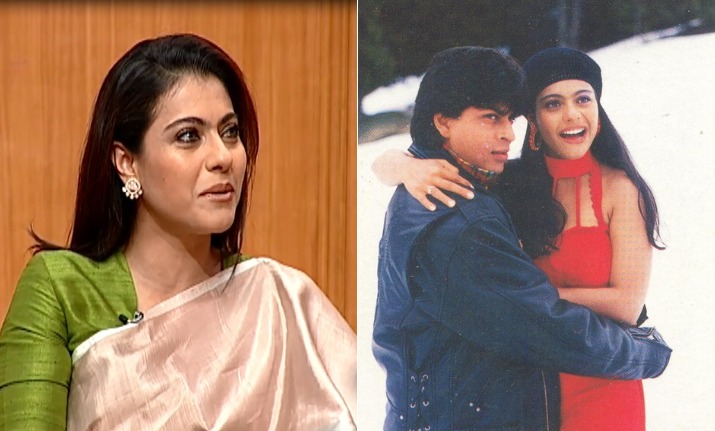 If you're a 90s kid, then you perhaps wished for Shah Rukh Khan and Kajol to be dating in real life as well. Blame it on DDLJ aftermaths! Well, the duo is certainly not a couple but they're best of the buddies. They share a great rapport off screen, which is why they create magic whenever they're together on screen. Be it Baazigar or Kuch Kuch Hota Hai, all the films they worked together in is mostly known for their life-like chemistry.
The evergreen actress Kajol was on Aap Ki Adalat for the first time on Saturday. The actress featured on the popular talk show to talk about her upcoming film Helicopter Eela. However, during the conversation with India TV's Editor-in-Chief Rajat Sharma, the bubbly actress threw some light on rather hilarious incidents of her life. In one of those conversations, Kajol told how her close friend and Kuch Kuch Hota Hai co-star Shah Rukh Khan made her fall from a bicycle. Not only this, the fall was so bad that Kajol lost her memory for some time.
Taking the advantage of the situation, Shah Rukh Khan and Karan Johar tried their best to convince that Kajol is not the lead actress but a side dancer in DDLJ! Can you believe it?
Also, Kajol believes that SRK is so naughty that instead of her, he should be brought in Adalat and several charges should be pressed against him (Although, she was saying it in a joking manner.)
However, you will be surprised to no that Kajol once saved Shah Rukh Khan's life on a film set. When the duo was shooting for Dilwale's popular song Gerua, SRK's foot slipped and he was about to fall in a mammoth waterfall had it not been for vigilant Kajol who grabbed him by his arm. 
On the work front, Kajol will be featuring in Helicopter Eela with National Award-winning actor Riddhi Sen. She is playing an overprotective single mother to a teenage boy. The film will release on October 12, after being delayed.