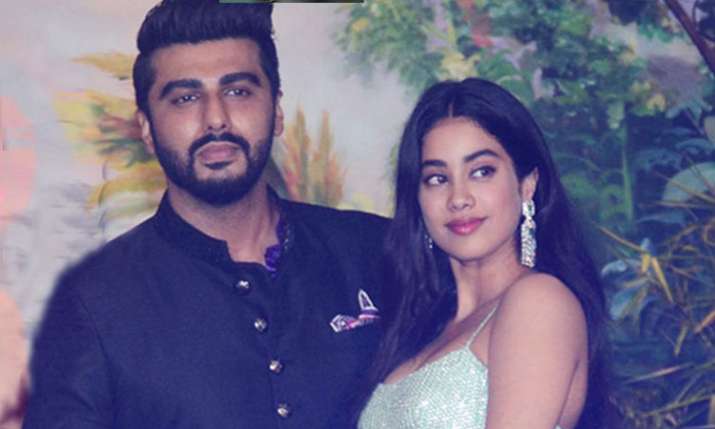 Arjun Kapoor and his newfound fondness of his half-sisters Janhvi Kapoor and Khushi Kapoor made headlines every other day. After the tragic death of veteran actress and girls' mother Sridevi, Arjun has stepped in like a big brother to guard his young sisters. The media was abuzz with the affection and warmth Arjun, Khushi and Janhvi showed towards each other. But it wasn't an overnight phenomenon, reveals Arjun Kapoor. While speaking to a leading daily, the Namaste England actor spoke about how the equation changed between Janhvi, Khushi and him after Sridevi's death.
He revealed that he can now speak to the girls one on one but everything wasn't perfect when it came to his relationship with Janhvi, Khushi, his dad Boney Kapoor and sister Anshula.
In Pics: Boney Kapoor and daughters Janhvi, Khushi attend special tribute event on Sridevi's 55th Birth Anniversary
"It was at a nascent stage as we were still figuring out things. But we were comfortable with each other and that was a good starting point. Mujhe darr tha ki zyada baat karne se nazar lag jayegi. I wanted things to take their own course," he said.
First Saree, now Dupatta; here's how Janhvi Kapoor keeps her late mother Sridevi close to her heart
"Janhvi and Khushi are both sorted. Today, we are able to speak one-on-one. I know they will figure out life in their own time, in their own way. Anshula and I are there for them," Arjun said while talking about their relationship.
"The good part is that we have our independent lives, but whenever need be, we are there for each other. That's how it should be. We don't have to suddenly become a happy pretentious khandaan, which is why I took some time. Now, I'm talking about it as there's a certain ease and I've been able to figure things out."
Talking about the time when he received the news of Sridevi's death, he said, "Having experienced something as harsh as that, I wouldn't wish it for my worst enemy. I know what it feels like to be in a situation where you're grasping for life."
Koffee With Karan: Arjun Kapoor to grace Karan Johar's couch with sister Janhvi Kapoor
Meanwhile, Boney Kapoor said that he was happy that his children have come together as they were his blood. While speaking to SpotboyE, he said, "I am blessed to have these four. They love each other a lot and I am glad that they have come together. It was due to happen anytime, it just happened when something unfortunate happened. They are all my blood and they had to come around."