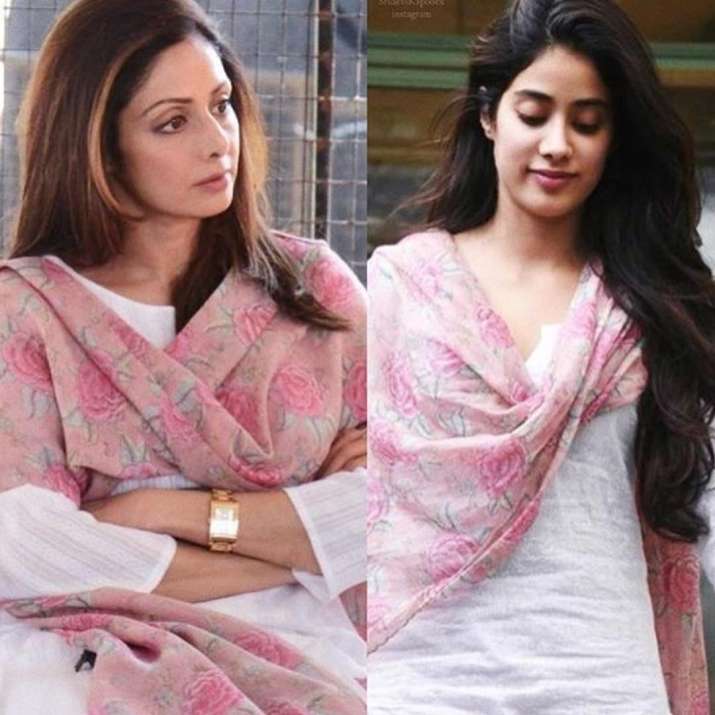 Bollywood actress Janhvi Kapoor is undoubtedly a spitting image of her mother and late veteran actress Sridevi. Even after the film's release that also starred Shahid Kapoor's half-brother Ishaan Khatter in the lead role, many claimed that the newcomer reminded them of a young Sridevi. Before making her official debut in Karan Johar's Dhadak, Janhvi was compared to her mom for her striking resemblance to her. And recently, it was a nostalgic moment as Janhvi stepped out wearing Sridevi's dupatta.
Recently, a picture of Janhvi and her mother Sridevi is doing the rounds on social media in which Janhvi is sporting the same dupatta that Sridevi used to carry.
However, this isn't the first time that Janhvi Kapoor was spotted wearing Sridevi's clothes.  The young actress chose a saree from Sridevi's collection as she accompanied father Boney Kapoor and sister Khushi Kapoor to accept National Film Award for Best Actress that was conferred on her mother posthumously. Sridevi won the award for revenge drama, MOM; the actor died in February this year.
Manish Malhotra, Sridevi's close friend and favourite fashion designer, wrote on Instagram, "The very pretty Janhvi Kapoor as she goes to receive Sridevi ma'am's much deserved National Award for her fabulous performance in MOM. An actress and a human being and the friend that we all miss every day of our life's. Janhvi Kapoor in her mom's personal saree for this emotional and precious moment."
Recently, Janhvi Kapoor in an interview with DNA admitted that she had no idea why there is an incessant need for people to pit one actress against the other. She feels that 'competition' as a concept, starts garnering a negative connotation if people keep doing things like these.
Addressing the underlying sexism in the industry, Janhvi added, "It's also odd because I think you only pit women against each other. Why is no one asking Ishaan the same question — if he's feeling the sting of competition, too! People love pitting women against each other. But in reality, we can be happy and celebrate each other's success." She feels if one is doing a good job at his/her work, then it automatically becomes easy to co-exist.