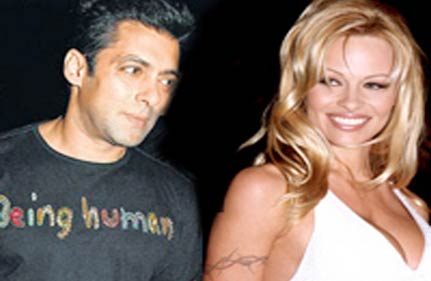 Mumbai, Nov 17: Clad in a white sequined saree, Hollywood celebrity and a former Baywatch star Pamela Anderson made her much-awaited entry into the house of 'Bigg Boss', a popular TV reality show.
But Salman Khan, the host for the fourth edition of the show, is in for a disappointment since the 43-year-old sex siren says she is not aware of the Bollywood star.
Pamela made her grand entry into the 'Big Boss 4" house at Lonavala, a hill station about 125 kms from Mumbai, last night. She is expected to spend three days as a guest on the show.
Bollywood stars are looking forward to watching Pamela on the Indian TV screen from tonight and guessing as to what will be her equation with other contestants on the show, who include WWE wrestler Khali, actors Sameer Soni, Dolly Bindra and Shweta Tiwari.
Actor Riteish Deshmukh tweeted, "Big Boss: Pamela Anderson is on tonight- What job do you guys think she should be assigned? will put up some of the best answers."
Model-turned actor Dino Morea wrote on his Twitter page, "Do u think there would be a wrestling match bet dolly and pamella Anderson in the BB house?? Khali refree?(sic)"
Pamela admitted she was clueless about the show's host Salman Khan as well as the other contestants.
"I have heard about Salman through media. I have seen a few Bollywood films, but I don't remember any of the actors by their name. May be, if I see him I will be able to recognise him (Salman)," she said before entering the house.
Salman will be meeting her for the first time on Friday, the day she leaves the 'Bigg Boss' house.
Anderson, who is reportedly being paid Rs 2.5 crores for her three-day stay, said she she is not an ardent fan of such programmes.
"I am not a fan of reality shows. I love traditional shows like Baywatch," she said.
Anderson said she has not seen any of the episodes of Bigg Boss 4, which went on air last month, and has been handed a small write up on those locked in the house.
"I am going unscripted on the show," she said, adding that she is ready to do all the house-hold chores. "I like doing household work. I do it at my place so I have no issues with it."
She will be locked in the sprawling house under round-the-clock surveillance of multiple cameras for three days with nine other contestants.
"I am very excited about the show. I will be just myself and have fun with the contestants in the house," said Anderson.
"I will miss my two kids when I will be locked in the house. I can't stay without them," she added.  PTI