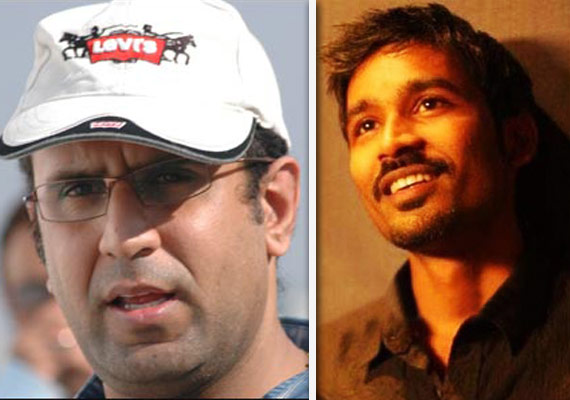 New Delhi, Mar 24:
"Tanu Weds Manu" director Aanand Rai, who has roped in 'Kolaveri Di' hitmaker Dhanush for his next film, says the film will break the myth that actors from South do not taste success in Bollywood.
Having cast Dhanush opposite
Sonam Kapoor
in the film, Aanand says that the National award-winning actor will take Bollywood by storm with "Raanjhana".
"We have so many girls from down South stepping into Hindi films but filmmakers seem to get cold feet when it comes to actors. Maybe 'Raanjhana' would break the myth that actors from South are not successful in Hindi films. I have seen Dhanush's work down South, he will take Bollywood by storm," Aanand told PTI.
After the success of "Tanu Weds Manu", apparently there was pressure on Aanand to rope in a much more 'saleable' name.
But the director said, "I don't understand one thing. When we have no qualms picking up films from down South for remaking them in Bollywood, why not do the same with heroes as well?" Set in Varanasi, "Raanjhana" is a love story of a middle class boy and girl.
Known for capturing the authenticity of various small towns and cities in "Tanu Weds Manu", Aanand is expected to bring similar flavour in his new film as well, "This is also going to be a close-to-soil film.
Dhanush is going to melt everyone's heart in the role of this loveable guy from Varanasi.
The female character too would have a mind of her own despite hailing from a small town. She is street-smart and not a pushover. Beyond that it would be futile to talk since it is too early," said Aanand.
The director has been making rounds of the city, at times with Dhanush and at other times alone, to ensure that Dhanush understands the milieu well and acclimatises himself with a quintessential North Indian environment.
"Dhanush has already made the city as his own. He has understood the soul of the script and the spirit of the town.  Now he is giving his heart into getting the character right.
As for the body language, we will work on it together to ensure that he comes across as someone who is more Indian than being a South or a North India," said Aanand.
While his entire concentration is currently on "Raanjhana", Aanand says that he had to let go of quite a few other tempting offers that came his way last year.
"Once you have a successful film, corporate houses do want to work with you. I am glad I am going through that stage when there are proposals all around. However, I wish to make only one film at a time. Instead of immersing myself in multiple projects and over committing myself, I would rather concentrate only on 'Raanjhana' and make sure that it is a good product."
Meanwhile there are plans to bring on the "Tanu Weds Manu" sequel. Though there has been contradictory information floating around, Aanand sets all doubts to rest.
"'Tanu Weds Manu' sequel will most definitely get made. Secondly, it would be with Madhavan and Kangna. I don't see anyone stepping into their shoes," he said.