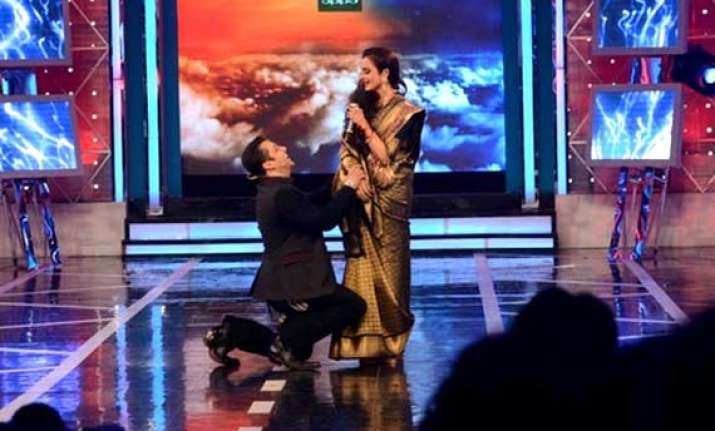 New Delhi: 'Weekend ka vaar' of Bigg Boss season 8 was a bag full of mixed emotions.
One side the beautiful diva Rekha came to house to promote her upcoming movie, Super Naani!, the other side Deepshika got eliminated.
The episode started on a hilarious note. Salman took us inside the house where the housemates were given a task to swap each others characters and recreate the BIGG fight between Karishma and Gautam. Guess Bigg Boss wanted the housemates to see a mirror image of them for some self realization.
Pritam was seen playing Diandra, Minisha portrayed Karishma, Punit fashioned Sushant, Karishma was seen acting as Punit, Praneet was seen mimicking Gautam, Sonali portrayed Natasha, Gautam played Sonali, and Upen was asked to enact Soni.
Aarya portrayed Minisha whereas Diandra was seen as Aarya. Soni on the other hand donned Praneet's persona.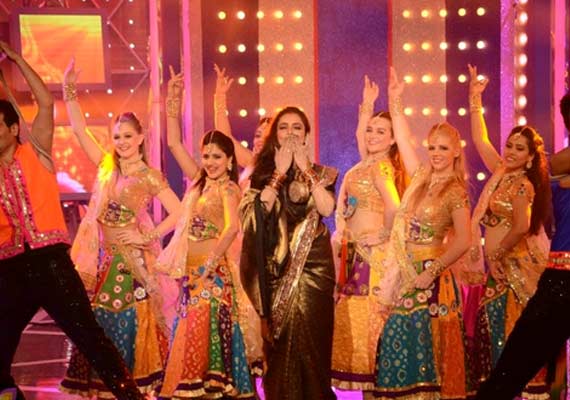 Rekha, the timeless Diva made a 'kayaamat bhari' entry on her chartbuster song, Pardesiaa! Salman and Rekha shared some secrets from their past life.
Salman Khan had a huge crush on Rekha when he was a kid. Rekha told how Salman would follow her around bandstand on his cycle, while Rekha would go out for walks.
When asked what Bigg Boss meant to her, Rekha went on to call Salman Khan her Bigg Boss while saying "Mere Bigg Boss toh aap hi ho!".
Rekha even teased Salman Khan playfully by improvising the famous dialogue from Salman's movie Dabangg, "Thappad Se Darr Nahi Lagta Saheb, Bigg Boss se lagta hai!"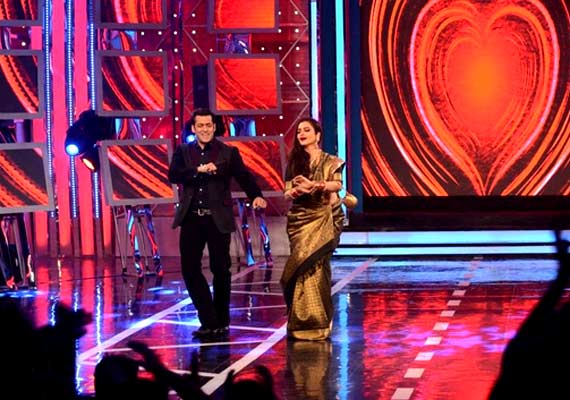 Salman had offered Rekha to play his mother in Dabangg 2! While talking about the same,  Salman requested Rekha to shake a leg with him on 'Dagabaaz re' and for sure this Diva can still make the new hotties run for their careers.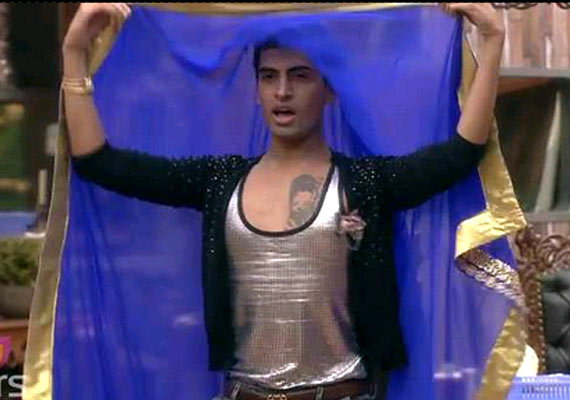 When the housemates got to know of Rekha present in the house, they dedicated a performance each to her. And guess what?
Sushant, who performed on Salam-e-ishq meri jaan, not only won the task but also, Rekha's heart!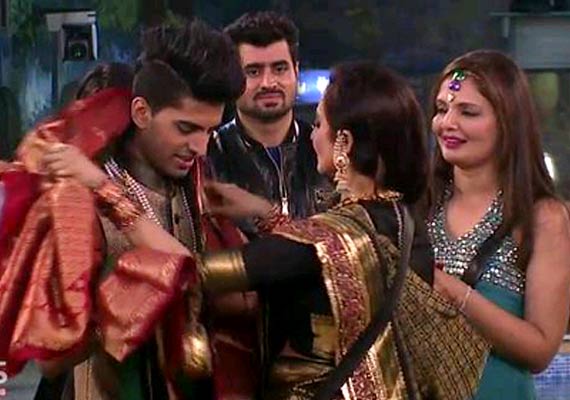 Rekha went inside the house to meet all the housemates and to present Sushant with a beautiful Kanjivaram sari for his beautiful dedication.
It was finally the time for elimination and we saw Upen feeling sorry about having nominated Sonali.
The two were seen sharing a romantic and private moment and were finally joined by Soni.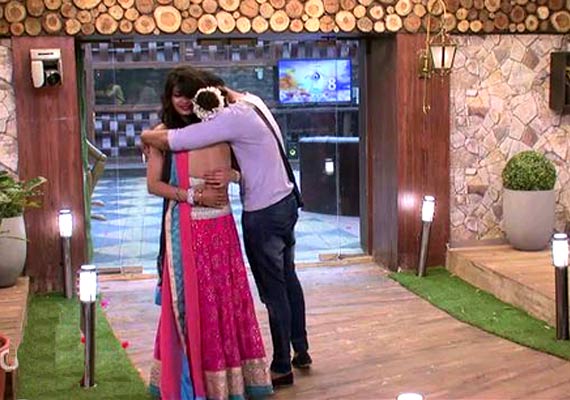 Upen's prayers were finally answered as Sonali was safe and it was Deepshikha who had to leave the house.
Deepshikha who has been one of the toughest contenders on the show has dominated the Bigg Boss 8 arena ever since the show started.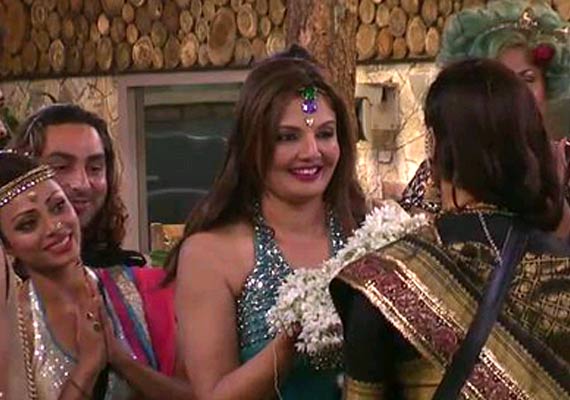 A true team player, she even captained her team to victory in the first weekly task. But her dominating attitude had also caused a bone of contention between her and the other contestants.
While everyone was quite emotional, we were constantly thinking about 'something speacial' brewing between Sonali and Upen... This is going to be exciting!
This time jalaad carried 'Bheegi Billi' while we were confused you will get the title, Salman showed audience a video clip.
So the Bheegi Billi title went to Puneet Issar, who had threatened to set the Bigg Boss House on fire and had dared Bigg Boss to show his warning on the National Television.
But, as soon as he was called inside the confession room, the Duryodhan-turned-the angry bird turned into a Bheegi Billi.