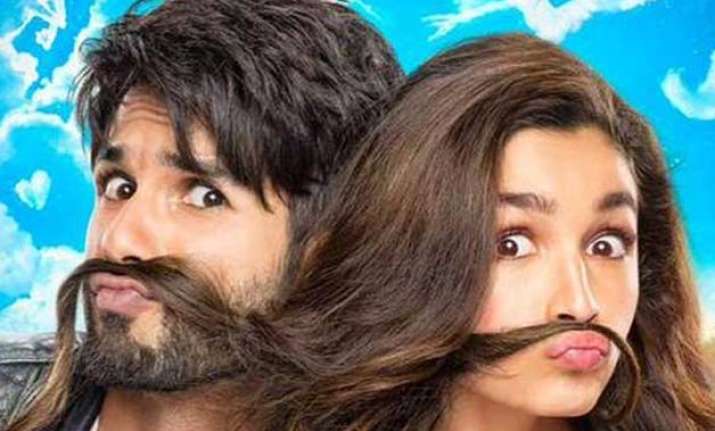 The team of Shaandaar which is raking in compliments after the movie's trailer was well received gave the media insights about the movie at a press conference.
Starting off on a lighter note, when the director Vikas Bahl was asked about the magnificent sets, he chuckled saying, "Karan Johar gave us money and we spent it. It is all about enjoying the music, dance and love and also much more than that." Talking more about the movie, he also added, "The movie has a strong story. It is a love story but I hope it comes out with a bigger meaning."
Citing why Alia of 'Shaandaar' is different from Alia of real life, actress Alia Bhatt said, "The character made me play me. Alia in the movie is a very intelligent girl."
In 'Shaandaar', Shahid Kapoor will be sharing screen space with his father Pankaj Kapur. When asked about the experience, Shahid said, "While I was giving my first shot with Dad, I felt I was overacting. The initial days were very uncomfortable as I have been directed by him but acting with him was a new task. But with time, things got better and I was more comfortable with him."
Shahid Kapoor didn't refrain from saying that he had chosen his films poorly in the past. "My choices with movies have always been bad. These are the people who settled my career a little. My next movie this year is Udta Punjab where Alia will be with me, again."
Speaking about the shooting conditions, Shahid said, "The film was shot in extreme cold. We had to shoot without clothes. And Alia faints a lot. You should see her. One second she stays fine and the very next she is on the ground. "
Alia Bhatt had openly confessed her love for Shahid Kapoor in the past and she did the same during this conference. The 22-year-old actress said, "I have adored Shahid Kapoor since Ishq Vishk and I am very fond of him as a person."
Shahid, who is obviously senior to Alia, used to consult her about his looks to make sure he didn't look too old for her.
Seems Alia Bhatt and Pankaj Kapur have bonded well too. During a question answer round on Twitter few days ago, the actress was praising the veteran actor. Shahid too agreed, saying, "Alia shared a special relationship with Dad. He didn't talk to me much but he and Alia would talk for hours at a stretch."
He also said that on the last day of shoot, Vikas Bahl and his father, Pankaj Kapur, indulged in a long conversation about the way ahead, which according to him should have happened at the beginning of the shoot.
Since Sholay is completing 40 years this week, the actor was asked about a Sholay memory that could be connected to Shaandaar. To this Shahid answered, "The horse sequence. I had watched Sholay in 6th year of its running. I still remember I cried too much and I cried again to watch the movie for a second time." He also added, "We should not be called Bollywood. We should be called Sholay as in pre-Sholay and post-Sholay."
Alia Bhatt said Karan Johar will always be a mentor to her. "Karan Johar started my journey so he will always be special. But I want to experiment with different kinds of roles as I get bored easily."
Talking about her bikini scene which has already stirred waves in the industry, Alia told the media, "I trained for the bikini shot; It wasn't supposed to be such an elaborate shot but since I was on a strict diet and had put in so much effort, the shot was detailed."
Reacting on the comparison between Shahid's ex girlfriend Kareena Kapoor and his on-screen love interest Alia Bhatt, he said, "It's a huge compliment for Alia to be compared with Kareena as she is very established. The only common thing according to me is that I have done a romantic movie with both of them."
When asked who is the most 'Shaandaar' personality of Bollywood, Shahid said it is Amitabh Bachchan.
Produced under Dharma productions, 'Shaandaar' will hit theatres on 22nd October.