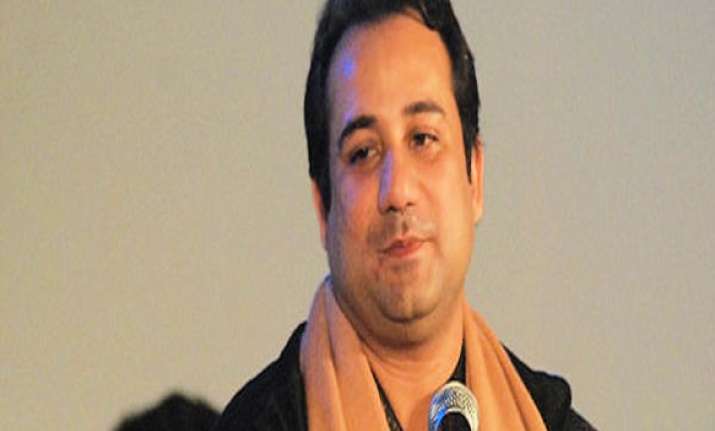 New Delhi/Mumbai, Feb 14: Pakistani sufi singer Rahat Fateh Ali Khan and two members of his troupe were released by DRI today pending probe, a day after they were detained for allegedly carrying USD 1.24 Lakh (about Rs 60 lakh) in undeclared foreign currency.
As investigations continued to find out the source of the huge amount of foreign currency, the three men were freed after being asked by the Directorate of Revenue Intelligence (DRI) to surrender their passports and appear again for questioning after three days.
The DRI did not file any case against the detainees and let them go after vigorous questioning. They were also asked not to leave the country.
Pakistani diplomatic channels were also activated and High Commission officials in New Delhi tried to get a Consular access to him, sources said.
Three High Commission officials came to zonal headquarters of the DRI where questioning of the singer was underway but left after about 30 minutes, sources said.
Khan (37) along with his manager Maaroof and event manager Chitresh Shrivastava were detained yesterday from Indira Gandhi International Airport while they were on their way to Lahore via Dubai after an alleged undeclared USD 1.24 lakh were recovered from the three men who were part of a 16-member troupe.
The officials subjected the singer to the questioning throughout the day while searches were conducted simultaneously on the premises of "Eyeline Telefilm and Events" in Mumbai, owned by Chitresh, elder brother of bollywood singer Aadesh Shrivastava.
Sources privy to the investigations claimed that the sleuths found Rs 51 lakh in cash which was seized besides some documents.
When contacted Adesh said that he was not aware of any developments as he had been bed ridden for many days while another brother of Chitresh, Vishal Shrivastava disconnected the phone call made to him for his reaction about the search.
The sources said questioning of Chitresh, who was also been detained yesterday, was being carried out on the alleged cash seizure made from his Mumbai premises.
"The DRI officers found altogether Rs 1.24 Lakh USD which is equivalent to about Rs 60 lakhs. 24,000 USD were found from the baggage carried by Rahat while the remaining 50,000 USD each were found from the baggage of two troupe members," Central Board of Excise and Customs Chairman S Dutt Majumdar had said.
He said there were "clear violations of excise laws" and the currency carried by them was "much above" the allowed limit.
As per norms, no one can carry beyond USD 5,000 in cash and 5,000 USD in other instruments. The person has to declare the amount if he is carrying more than this to the Customs Department.
The recovered foreign currency also included USD 10,000 and USD 8,600 in demand drafts, sources said.
According to sources, the payments by an event manager to Rahat were made in Indian currency and US dollars and these people were allegedly found converting the dollars to Indian rupees "through unauthorised channels".
Rahat and his entire troupe, numbering around 16, including his manager Maroof and event manager were detained by the authorities while they were on their way to Lahore from Dubai by an Emirates flight.
He is rated as a one of the top playback singer of Hindi film industry who has several hit numbers to his credit. He won the Filmfare Award for Best Male Playback Singer this year for 'Dil To Bachcha Hai Ji' from the movie 'Ishqiya'.
The Pakistani singer was intercepted by DRI personnel around 4 PM yesterday by the officials who acted on tip-off, the sources said. PTI