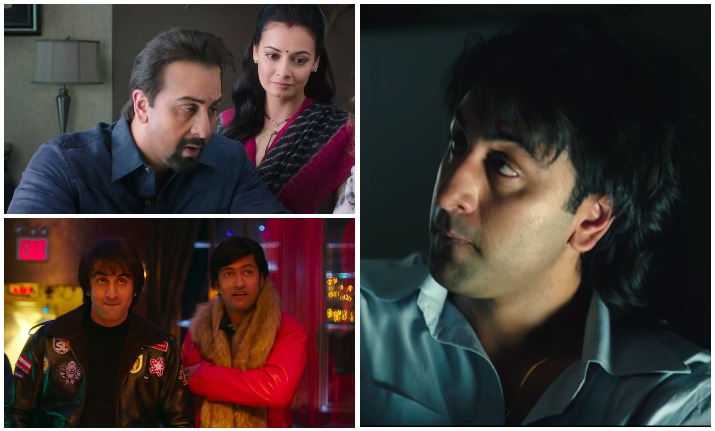 Sanju is indisputably the most awaited film of the year 2018. Ever since the pictures of Ranbir Kapoor's look for the Sanjay Dutt biopic started surfacing online, the anticipation levels of the fans have increased manifolds. Finally it's the day when the makers dropped the terrific final trailer of Sanju. The entire event was live streamed by actress Sonam Kapoor on her social media. The entire star cast including Ranbir Kapoor, Sonam Kapoor, Vicky Kaushal, Dia Mirza and Paresh Rawal were present for the big event. However, Anushka Sharma skipped the launch as she is in the US to shoot for Zero.
Ranbir Kapoor as Sanjay Dutt accepts to be a drunkard, pervert and a drug addict. But he begs to differ when he was accused of being a terrorist (referring to his involvement in 1993 Bombay Bomb Blasts). He traces the journey of the actor right from the time when he was young and making his first step towards the murky world of drug addiction.
Sanju also narrates his illicit relationships with multiple women except for his wives, Rhea Pillai, Richa Sharma and Maanyata Dutt. It's important to note that Anushka Sharma is seen in an entirely different avatar. She is playing a journalist in the film, who is studying the controversial life of Sanjay Dutt. Sporting icy blue eyes and curly mane, the actress' look is hands down impressive.
The official #SanjuTrailer is out and it'll leave you speechless! Watch it here - https://t.co/R4QiGrMatL #RanbirKapoor @RajkumarHirani #RajkumarHiraniFilms @foxstarhindi @VVCFilms

— Sonam K Ahuja (@sonamakapoor) May 30, 2018
Sunil Dutt's character played by Paresh Rawal adds the emotional gravity to the film. Paresh Rawal plays a convinced father who can never stop believing in his son's innocence.
Sanjay Dutt's ordeal in the Yerwada Jail has been depicted in the utmost realistic manner. It's so real and untouched that at one point you'll feel like throwing up looking at the sorry states of the prison.
All in all, Sanju trailer gives you a brief insight into all the major events of Sanjay Dutt's life from relationships to his rendezvous with underworld. Talking about Ranbir Kapoor's performance, the actor seems to have gotten completely into the skin of Sanjay Dutt and it is difficult to differentiate one from another.