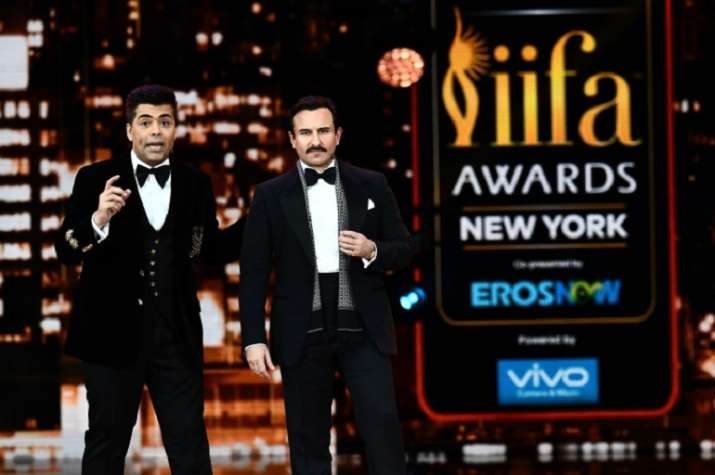 Nepotism, the word which came to the trending radar after popular Bollywood actress Kangana Ranaut spoke her heart out on Karan Johar's talk show Koffee With Karan. It was supposed to be healthy conversation between three adults, Karan Johar, Kangana Ranaut and Saif Ali Khan, but things took a rather childish turn when KJo decides to get offended by her statements. According to Kangana Ranaut, Karan Johar is the flag bearer of nepotism in Bollywood, for having to cast star kids like Alia Bhatt, Varun Dhawan and Sidharth Malhotra in the industry. Kangana and Saif were there on the show to promote their film 'Rangoon'. But the only thing that received all the hype was 'nepotism'. 
Also Read: Here's how Kangana Ranaut reacted to Saif Ali Khan's open letter on nepotism
The fire of nepotism started to extinguish after a while and everything was forgotten. But Karan Johar wasn't letting her get away with it. He dug the old graves at the popular award show IIFA 2017 when he along with Varun Dhawan and Saif Ali Khan took jibe at the actress for having an opinion. This didn't go well with anyone who saw the episode. Obviously, nobody could have expected such a childish act by someone of that stature. While KJo and Varun Dhawan apologised downrightly, Saif Ali Khan went way too ahead with his apology. He wrote an open letter on DNA to take his stance. 
I went through the entire letter and there were fragments which were totally relevant but there were some which were as absurd as anything could be.
Here are those excerpts which caught my due attention. 
Also Read: Saif Ali Khan annoyed with Karan Johar at IIFA Awards 2017?
When Saif Ali Khan said everyone should take a 'chill pill', he should have counted himself as well. 
In the very first paragraph of the open letter, it lost its purpose to exist. The actor was clearly saying that everyone needs to take a chill pill and relax, while at the same time he decides to extend his open letter to 500 more words. This might have left many confused as to what the actor was trying to put in this particular line of the letter. 
Actor was spot on when he said, we live in a world where apologies and wishes are made on Twitter/Facebook 
We can't say that the actor was wrong at this, though the mention of this debate in an open letter seems irrelevant. Coming back to the point he was trying to make, it's true that this phenomenon has seen a gigantic rise in the times of social media. Very often we notice that people prefer to wish their loved ones and apologize on social media rather than to the person concerned himself. He also says this is the reason why he's not on social media. Appreciative, though! 
Also Read: I called Kangana and apologised personally: Saif Ali Khan pens an open letter on 'nepotism rocks' remark
Comparing artistes to race horses? Eugenics in Bollywood? Doesn't make sense 
His open letter was somewhat going in the right way, but suddenly it took the wrong turn. Mixing eugenics with art is something that is not easily digestible. Eugenics in literal terms mean the science of improving a population by controlled breeding to increase the occurrence of desirable heritable characteristics.(Courtesy Google). This so-called relationship the star established between genetics and art is still difficult to be gulped down the throat. If this was true, why do we have so many examples of failed star kids? 
Commenting on a publication writer's vocabulary  
Nobody was expecting this from a renowned actor like Saif Ali Khan. While he himself used a bit too heavy words in his own letter, he went to an extent of commenting on the vocabulary of a writer. Shaming the vocabulary was just not expected by the person of such a royal stature. 
Intentionally or unintentionally, we all are the flag bearers of nepotism 
Indeed, it's a vicious cycle. Star kids like Taimur, AbRam Khan and Misha have become a national sensation even when they haven't got one-fourth of this world yet. The created hype around them, make them the stars at a very young age. Right from the actors to the a person checking out on the pictures of a star kid on his phone, everyone is a part of nepotism and we've got to deal with it. 
Nepotism is not only a Bollywood thing, it's everywhere 
Let's not get into the depth of it. It's a fact that nepotism is everywhere. Right from the film industry to politics,IT Industry, hospitality, etc. Nobody has escaped the effect of nepotism. But the other way round is also true. Bollywood would be the last place where we would like to see nepotism bringing in the stars. People want to see the real talent on the screens, regardless of their surnames and pedigree. 
We don't know where this Nepotism debate of Bollywood is heading towards. But we do hope that our stars put thier egos aside and make peace with each other. 
Note: All the views expressed in this piece of writing exclusively belong to the writer. 
For more Bollywood updates, follow our Facebook page