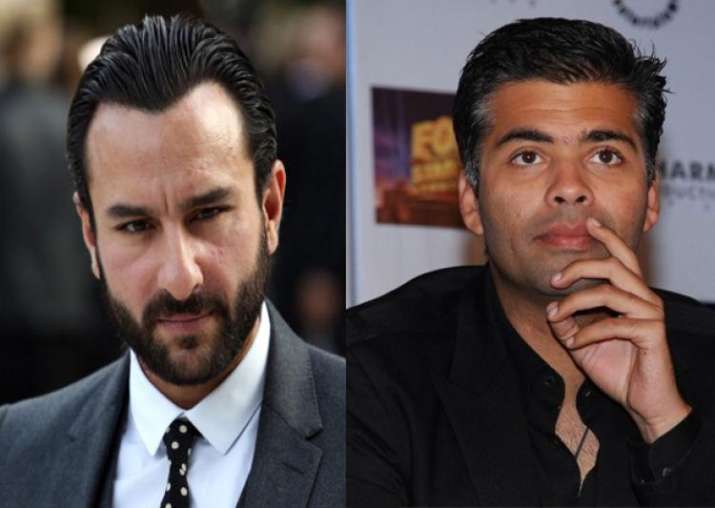 The International Indian Film Academy Awards or IIFA 2017 saw one of the biggest controversies- "Nepotism Rocks", which shocked the entire nation. Karan Johar, Saif Ali Ali Khan and Varun Dhawan got together and, took a dig at Kangana Ranaut. While, this row is still fresh in our minds, latest buzz suggest that Saif was annoyed with his Kal Ho Naa Ho director Karan at the gala. Reportedly, KJo wanted to steal the limelight from the actor while hosting IIFA 2017, according to a DNA report.
An actor who was part of the awards night informed that at the start everything was fine between Saif and Karan. However, things started to take an ugly turn when the filmmaker began changing his lines on stage. Saif, on the other hand, did not take too kindly to Karan trying to eclipse him on stage and made his displeasure known to his friends. Word got around, and Karan soon found out about the actor's resentment.
However, another source close to Karan Johar said that the filmmaker did not intend to steal the thunder from Saif Ali Khan. "It's not clear how this happened, because the hosts always read from the teleprompter. Karan is so comfortable on stage, so he may have said some spontaneous things to improvise, which may have disturbed his co-host. But I doubt he did that to steal Saif's thunder," the source was quoted as saying to DNA.
Well Karan Johar, who is always upbeat and outspoken, makes huge headlines now and then. Speaking about the nepotism debate, he recently said that he just cracked a joke but it has been misplaced and misunderstood. He had regret over it. Karan went on to say that he wants to close the matter now and will not speak on nepotism and Kangana as it will be disrespectful towards her.
Read More
Sonam Kapoor gives definition of 'nepotism', gets trolled on social media
I called Kangana and apologised personally: Saif Ali Khan pens an open letter on 'nepotism rocks' remark
For more entertainment stories, follow our Facebook page