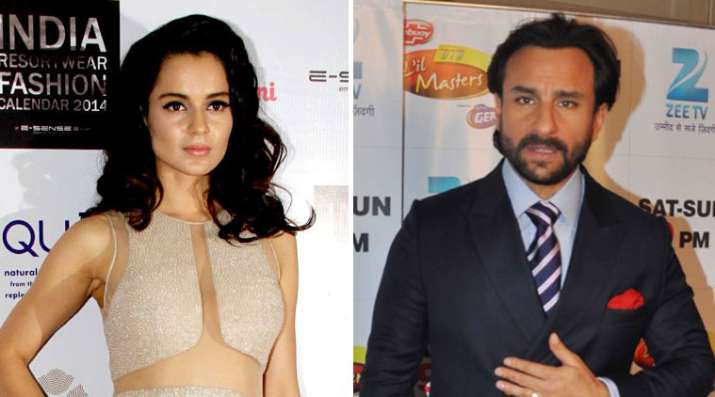 Saif Ali Khan's open letter on nepotism debate broke the internet yesterday and, now Kangana Ranaut has responded to it. The Tanu Weds Manu actress, who recently suffered a head injury on the sets of Manikarnika: The Queen of Jhansi, was upbeat and candid at reacting to Saif's opinion. Kangana also wrote an open letter and said that the nepotism debate is not her issue alone. It is a practice where people tend to act upon temperamental human emotions, rather than intellectual tendencies, Kangana Ranaut's open letter read.
The 30-year-old actress penned down the letter on mid-day.com and, said "We owe an explanation to everyone who either owns, or wants to own these values. Like I said, we are the ones who will shape the future of the coming generations". 
Taking a dig at Saif, Kangana said, "In another part of your letter, you talked about the relationship between genetics and star kids, where you emphasised on nepotism being an investment on tried and tested genes. I have spent a significant part of my life studying genetics. But, I fail to understand how you can compare genetically hybrid racehorses to artistes".
The Queen actress further said, "You also said that the media is to be blamed, since it is the real flag-bearer of nepotism. That makes it sound like a crime, which is far from the truth. Nepotism is merely a weakness of the human nature; it takes great deal of will-power and strength to rise above our intrinsic nature -- sometimes we excel, sometimes we don't. No one is putting a gun to anyone's head to hire talent they don't believe in. So, there is no need to get defensive about one's choices".
Concluding her open letter , she questioned whether we should make peace with nepotism. "The ones who think it works for them can make peace with it. In my opinion, that is an extremely pessimistic attitude for a Third World country, where many people don't have access to food, shelter, clothing, and education. The world is not an ideal place, and it might never be. That is why we have the industry of arts. In a way, we are the flag-bearers of hope", Kangana Ranaut wrote.
Read more
I called Kangana and apologised personally: Saif Ali Khan pens an open letter on 'nepotism rocks' remark
Apurva Asrani slams Kangana Ranaut for practising nepotism, sister Rangoli hits back
For more Bollywood updates, follow our Facebook page