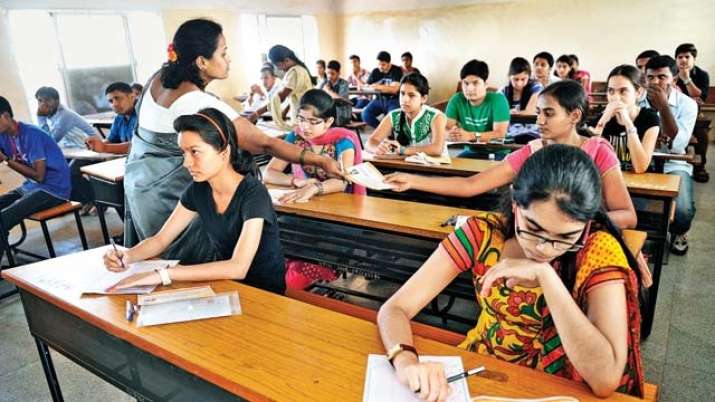 Joint Entrance Examination 2018 (JEE-MAIN) for BE, BTech, BArch, BPlanning courses, will be today in an offline (pen-paper) mode. The computer-based (online) exam will take place on April 15 and April 16, 2018. 
The paper will be conducted at different centres located in 112 cities across the country and abroad. 
After learning lessons from recent question paper leaks, the Central Board of Secondary Education (CBSE) has increased security procedures to ensure that students do not have to go through any fresh ordeal. The Board will use different sets of question papers on the different shifts on different dates of examination.
Here are some important instructions which will help students cut excessive stress and distractions during the exam.
#Remember to take your admit card. Your admit card is that important document without which you won't be allowed to appear for the same. Do not forget to carry your identity proof along with it.
#Reach exam hall at least 2.5 hours before the exam. The Board has recommended students to reach the exam venue well in advance as frisking and registration formalities are likely to take time. 
Paper 1:
Entry in the examination hall for frisking: 7 am
Test booklet distribution: 9:20 am
Last entry in the examination hall: 9:30 am
Paper 2:
Entry in the examination hall for frisking: 12:45 pm
Test booklet distribution: 1:50 pm
Last entry in the examination hall: 2 pm
#Make sure you do not have any of the following items: Any electronic devices like cell phone, calculator, electronic watch and study materials like log table, book, notebook, printed or written material etc. The candidature of anyone found carrying these items will be cancelled.
#Diabetic candidates can carry eatables. Those suffering from diabetes can carry eatables like sugar tablets/fruits (like banana/apple/ orange) and transparent water bottle inside the hall. However, they cannot carry packed foods like chocolate/candy/sandwich in the examination hall.
#Architecture candidates should bring their own geometry box set, pencils, erasers and colour pencils or crayons for aptitude test in architecture.
#Carry a clip board. It will be better if candidates bring cardboard or a clip board in order to avoid facing any difficulty while filling responses in the answer sheet. So even if the tables provided in the examination room/hall do have smooth surface, this can come handy. They should make sure nothing is written on the board.
#No pens allowed. Candidates should not carry any ball pens as they will be supplied the same in the examination.
Last year, a total of 11.99 lakh students had registered for the exam. Out of this, 8,62,526 were male aspirants and 3, 36,460 were female candidates. Three aspirants belonged to the other categories. As many as 10,15,349 of the registered aspirants had applied for the offline exam while 1,83,640 opted for the online (Computer Based Test) exam.