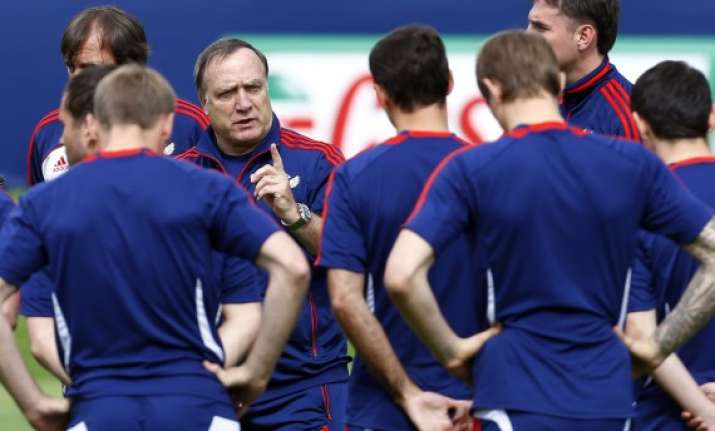 Poland, Jun 11: While Russia's football team has been beautiful on the field, some of its fans have been ugly in the stands.
Russia took apart the Czech Republic in its opening European Championship match, but the gloss was taken off the 4-1 win when UEFA opened disciplinary proceedings into reports of violence by Russian supporters at the match in Wroclaw.
"We concentrate on the game and not outside things," Russia coach Dick Advocaat said Sunday.
Russian football authorities have pleaded with fans to make sure there is no repeat of the trouble when Russia faces Poland in Warsaw on Tuesday. But there are fears of possible clashes as Russia fans plan to march to the stadium to mark Russia day, a national holiday.
Poland drew with Greece 1-1 in its thrilling opening match and needs to beef up its defense if it is to keep the swift and slick-passing Russian forward line at bay.
It will have to do it with second-string goalkeeper Przemyslaw Tyton after first choice keeper Wojciech Szczesny was sent off in Poland's opener.
But Tyton impressed by immediately saving a penalty to help earn Poland the draw.
A win will be enough to secure Russia a quarterfinal place with a match to spare, but the Russian players are making sure they take nothing for granted, even after their resounding first victory.
"We cannot let ourselves get too carried away. The task is not completed yet and we cannot afford to take it easy," Russia striker Roman Pavlyuchenko said.
Poland midfielder Kamil Grosicki said the Poles will aim to soak up Russian pressure and hit on the counter.
"From what we saw in their opening match ... Russia is going to want to attack us," Grosicki said. "But over the past 2½ years we've worked on hitting back on the counter and we have the players on the wings—Macie Rybus, me or Kuba Blaszczykowski—who are good on the counter. I think Russia will attack us and we'll wait for our chance."
The Poles are drawing inspiration from their fighting first half performance against Greece.
"Russia, like the Czechs, played a very open game and took advantage of the Czechs' mistakes and were really tough on the counterattack," Grosicki said. "It will be a very different match, both for us and for Russia, and I hope we play like we did in the first half against Greece but for the full 90 minutes."
Poland coach Franciszek Smuda doesn't expect Russia to give much away as it strives for early qualification for the quarterfinals.
"There won't be many changes—maybe one," Smuda said. "Russia has a lot of experienced players, but we don't fear them. Why should we? Besides, we're playing at home."
Poland's slumping second half was not lost on Advocaat, whose team looked very fit and relaxed in training Sunday.
"Poland has a strong team, you saw that in the first 20 minutes against Greece," Advocaat said. "They fell away after that, I don't know why, maybe the warmth of the day."