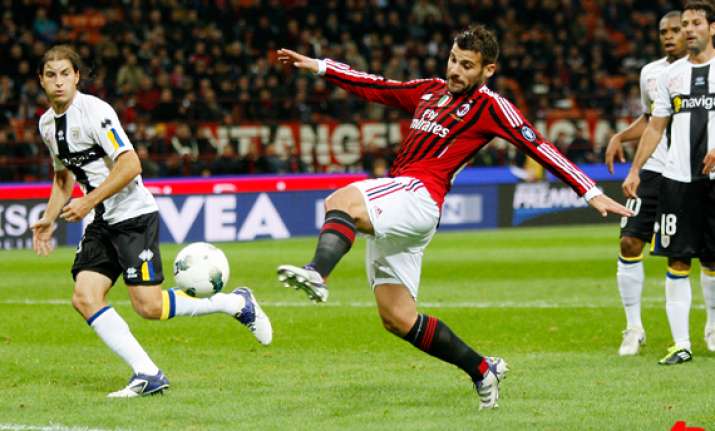 Rome, Oct 27: Antonio Nocerino scored a hat trick to lead AC Milan to a 4-1 win over Parma on Wednesday, moving the defending champion within two points of the Italian league lead.

Nocerino, who joined Milan from Palermo in the final minutes of the offseason transfer window, scored in the 30th, 32nd and 90th minutes at the San Siro.

Zlatan Ibrahimovic added another for the Rossoneri in the 73rd and Sebastian Giovinco pulled one back for Parma in the 78th to match Udinese's Antonio Di Natale for the league scoring lead with his sixth goal.

Juventus, which beat Fiorentina 2-1 Tuesday, leads with 16 points, followed by Udinese and Lazio—who each missed out on chances to go top—with 15 each.
Milan and Napoli are next with 14 points each.

"Now it's important to get back top again," said Milan manager Massimiliano Allegri. "This is an important result for continuity."

Napoli beat Udinese 2-0 and Lazio was held to a 1-1 draw at home by Catania.

Inter Milan's struggles continued with a 1-1 draw at Atalanta, with Inter goalkeeper Julio Cesar exiting at halftime with a left thigh problem; and Juraj Kucka scored an 89th-minute winner as Genoa beat Roma 2-1.

Also, it was: Cesena 1, Cagliari 1; Chievo Verona 0, Bologna 1; and Novara 1, Siena 1.

In Milan, Nocerino's opening goal came from the edge of the box after he was left unmarked inside the area and his second came with a spectacular shot to the top corner from beyond the area.

Ibrahimovic then dribbled by a defender and easily shot past Parma goalkeeper Antonio Mirante, and Nocerino scored again with a header following a cross from Antonio Cassano.

"The negotiations started at 1:30 p.m. the final day and finished at 6:25," Milan vice president Adriano Galliani said of Nocerino's transfer. "These are the great things about the market. It was a lucky (signing)."

At Napoli's San Paolo stadium, Ezequiel Lavezzi put Napoli in front with a difficult volley in the 20th and Christian Maggio doubled the southern club's lead with a header in the 44th, as Udinese struggled without Di Natale, who did not make the trip.

In Rome, Miroslav Klose gave Lazio the lead with a header in the fifth for his seventh goal in 10 matches in all competitions since transferring from Bayern Munich, and Gonzalo Bergessio equalized in the 63rd from the center of the area.

In Bergamo, Wesley Sneijder scored for Inter with a shot that was deflected in off a defender in the 32nd. German Denis equalized for Atalanta in the 44th with a header following a cross from fellow Argentine Maximiliano Moralez, as Inter defender Cristian Chivu struggled to keep up.

Chivu then fouled Atalanta substitute Guido Marilungo to give Atalanta a penalty in the 89th, and Inter's substitute goalkeeper Luca Castellazzi blocked Denis' poorly aimed spot kick.

Inter protested over the penalty, which appeared to be called by the linesman.

"In eight rounds we've had five penalties whistled against us and not one was clear," said Inter manager Claudio Ranieri. "The squad continues to improve and I'm leaving here pleased, even though we wanted three points.

In Genoa, Bosko Jankovic put the hosts in front in the 38th following an error by Roma defender Gabriel Heinze. Roma's 20-year-old forward Fabio Borini equalized in the 82nd following a setup from Marco Borriello and Kucka then scored the winner off his leg without realizing it as he stood by the post for a corner.