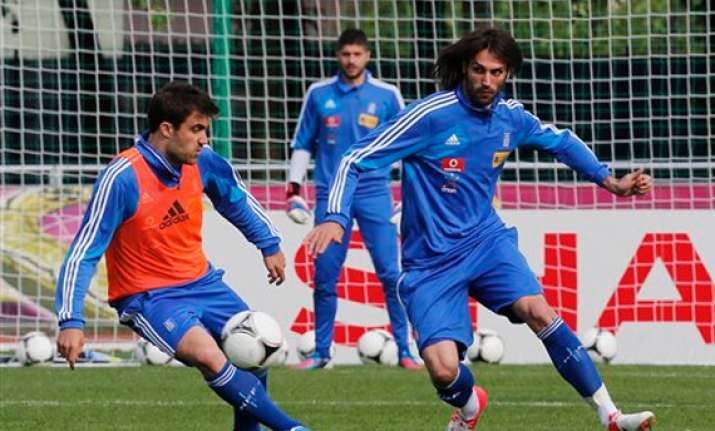 Poland, Jun 6 :  With the financial crisis causing a surge in unemployment and poverty, Greece's national football team is looking to provide some respite from the problems back home.
Greek football association president Sofoklis Pilavios told The Associated Press that the squad in Poland for the European Championship had learned to ignore other difficulties and concentrate on their game—in a year that saw Greece sink into financial and political turmoil and domestic football hit by bribery scandals.
"The Greek team has always learned to separate itself from the club level. Many of the boys play in cubs in Greece but many also play at clubs abroad," Pilavios said. "They have learned to play differently and I think they will make all the Greeks happy ... (giving them) joy, pride and strength."
Greece plays Poland in the opening match on Friday, and also faces the Czech Republic and Russia in Group A.
"They are three very strong teams—the host, Russia, the Czech Republic, all teams that run and fight. So we must see how we are. I believe in the team and that we'll do well," Pilavios said. "We have new players but they all have experience in the national team and have competed. They are not here for the first time."
Greece's squad has seven members based abroad and features a number of young players who could change the team's traditionally controlled style, including 19-year-old Kaiserslautern midfielder Costas Fortounis 20-year-old Schalke defender Kyriakos Papadopoulos.
Papadopoulos, who scored for Greece in the 1-0 friendly win over Armenia last week, said the fact that Poland will be playing for a home crowd could be to Greece's advantage.
"The pressure will be on Poland. They will be playing in front of their crowd," he said. "The starting game will be half the battle. A good result will mean we'll go into our other games with confidence. We have respect for all our opponents, but not fear. We fear no one."
With a strong qualifying record and few injury worries, the national team appeared confident after arriving in Poland despite the crisis in Greece that has posed a serious financial threat to clubs.
In Greece on Wednesday, fans of AEK Athens staged a violent protest at the offices of the league organizers, throwing yogurt and chairs at members of the body's governing board who were about to review the troubled finances of struggling teams, including AEK. League organizers said about 100 fans were involved in the incident. The meeting was postponed.