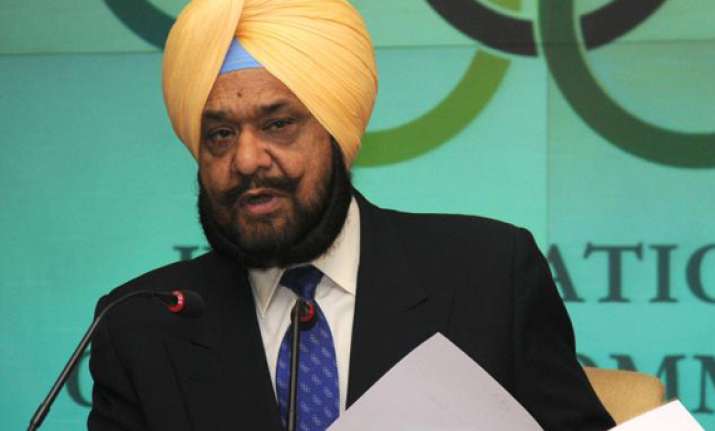 New Delhi, Dec 1:  International Olympic Committee member Randhir Singh fears the Indian Olympic Association may be suspended by the world body for holding elections that contravened IOC standards.
"It does not augur well for India as the IOA has gone directly against the Olympic Charter," Randhir told AP on Saturday.  
"Despite being warned not to conduct elections as per a government code rather that the IOA constitution, officials have gone ahead and named people who are supposed to have been elected unopposed." 
Though the polls are scheduled for Wednesday, the IOA on Friday announced the appointment of some officials to posts which were not contested. 
"Most of us withdrew from the elections after the IOC warning to follow our own constitution. The onus to call off the elections was on acting IOA president Vijay Kumar Malhotra.  
"After all, they are in-house elections and the election officers are following the guidelines being provided by the IOA," said Randhir, who was the IOA secretary-general for 25 years and was running for president this time before withdrawing. 
Among those announced elected was tainted official Lalit Bhanot, who is facing graft charges relating to the 2010 Commonwealth Games. 
Bhanot was named to the key post of secretary-general despite an IOC ethics commission report advising that the IOA should not have tainted officials. 
Bhanot, a protege of Suresh Kalmadi along with whom he was in jail last year for corruption cases related to the 2010 Commonwealth Games, was elected along with president Abhey Singh Chautala and two others. 
Chautala demanded Randhir resign from the IOC since he no longer represented the IOA, but Randhir said the new IOA team has to be recognized by the IOC before any such demand could be made. 
The IOC has said it will propose India's suspension at an executive board meeting at Lausanne in Switzerland on Tuesday and Wednesday. 
Suspension would mean a halt to IOC funding and a ban on Indian officials from attending Olympic meetings and events.  
India's athletes would also be barred from competing in the Olympics under their national flag, although the IOC could allow them to take part under the Olympic flag. 
The Indian body has been mired in wrangling over the elections to replace Kalmadi, who was jailed for nine months on corruption charges before being granted bail. 
Kalmadi, who headed the IOA for 16 years, decided not to seek re-election but reportedly backed Bhanot and some other officials in the run-up to the polls.