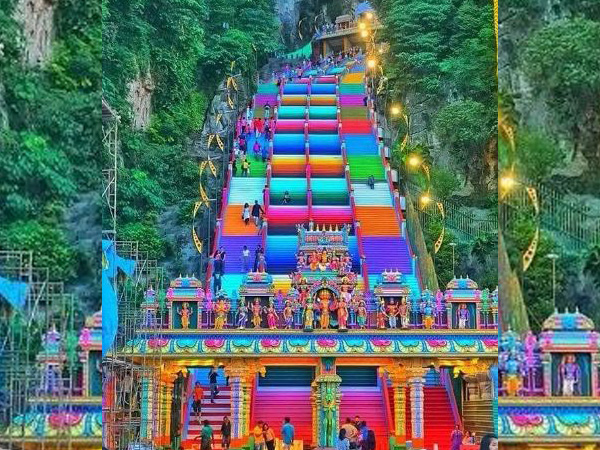 The new rainbow-coloured staircase of the Batu Caves in Malaysia has taken social media by storm but, it may land the temple committee in a legal soup.
The 272-step staircase leading to the entrance of the Sri Subramaniar Swamy Temple has recently been painted with a myriad of colours like red, blue, yellow, green and orange.
However, the renovation work was done without an approval from National Heritage Department (JWN), which is considering to issue a warning letter to the temple committee for violating regulations of the National Heritage Act 2005.
The temple is listed under the National Heritage Registry as a National Heritage site.
Though the colourful staircase has not been sanctioned by the National Heritage Department, people on social media have approved the new look.
Here how users of Twitter reacted over the colourful staircase:
The staircase was painted few days ago for the Kumbhabhishekham (consecration) ritual, to be held today. The consecration is performed for every temple once in 12 years according to Hindu rituals.
(With ANI Inputs)
For latest lifestyle updates, check out our Facebook page!
Also Read -Juhi Chawla took to Twitter to share 10 facts about Sikkim, India's first organic state
Also Read -7 reasons to explore 7 Sisters of India in the month of September
Also Read -Take a vacation to boost your longevity and live a healthy lifestyle
Also Read -Gelato-lover, Jacqueline Fernandez delves into Italian spots for ice cream