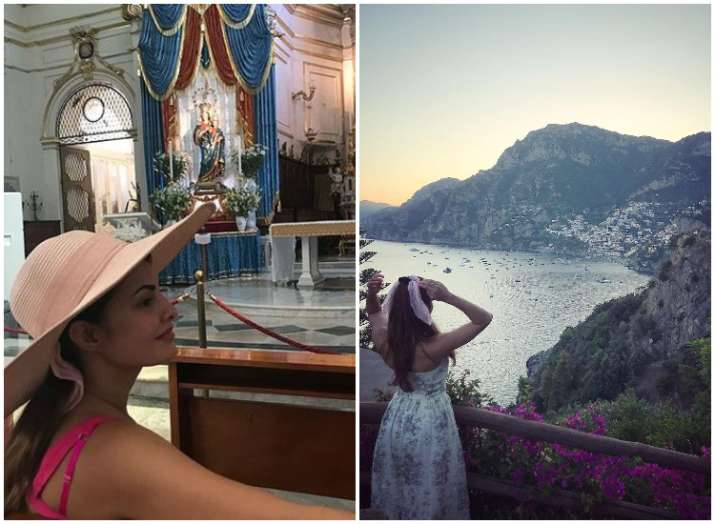 One Italian opera composer, Giuseppe Verdi once said, "You may have the universe if I may have Italy."
Well, you'll be soon nodding your head in agreement after looking at the pictures of Bollywood actor, Jacqueline Fernandez who was recently holidaying in the enchanting country of Europe, Italy.
Italy has everything from rich arts and history to fashion and culinary delicacies. It is one country which is packed with beautiful cities be it -Venice, Rome, Milan, or Florence. But still the actor chose Positano for her vacation only for one reason -its picturesque views.
Here, let us see how this 33-year-old actor give us major travel goals for Italy!
"Beautiful from every corner", is what Jacqueline says about her travel destination. Positano is a cliffside village in Amalfi Coast. This 50-km stretch of a coastline is actually a popular tourist spot in Italy.
This picture tells us two things; one, the place is really ah-mazing and two, Jacqueline's vacation-wardrobe is an inspiration.
Here's another cheerful picture from the Italian-diaries of the actor that can call out on your travel bugs!
When the actor calls for an ice-cream to satisfy her sweet-craving, she writes, "Celebrating with some gelato #capri #gelatolovers". And just to tell you, gelato is an ice-cream made in the Italian style. Gelato is simply the Italian word for ice cream.
And lastly, while exploring the dreamy country, Italy, Jacqueline took to her Instagram and captioned a picture as, "Explored the streets of Positano and found a church." Well, she looks extremely happy finding a church and looks equally stunning in her vacationing maxi dress.