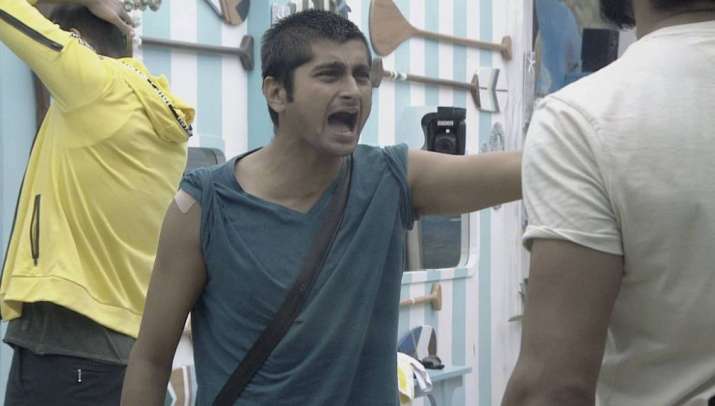 Last night, in Bigg Boss 12 we saw how Deepak Thakur and Surbhi Rana fought during the captaincy task. However, Surbhi Rana was declared the winner, sadly for Deepak. Deepak and Surbhi had to make some crazy revelations as a part of the captaincy task about the housemates. Deepak ended up talking ill about Megha Dhade, who later lashed out at him and even hurled a shoe at him. Surbhi did something unexpected. Sreesanth recalled about Harbhajan Singh's infamous slap during the IPL. He also revealed that Harbhajan and him are close friends now, forgetting about the animosity. In tonight's episode, we will see Jasleen Matharu accusing Surbhi of abusing her power.
Bigg Boss 12 LIVE Updates 
09:00 pm: Deepak wants to talk to Bigg Boss as Megha Dhade allegedly spit on him. Megha is very angry at Deepak for maligning her image. She accuses him of character assassination. Bigg Boss reprimands the housemates for not carrying out the tasks smoothly. He lashes out at Megha Dhade for being physical during the fight. Megha Dhade is nominated by Bigg Boss. Deepak is called in confession room. Bigg Boss reprimands Deepak for using inappropriate words for Megha Dhade. 
09:05 pm:  Housemates try to reason with Megha Dhade. They are disappointed with Megha for being violent. Surbhi Rana talks to camera about Megha Dhade. Romil and Surbhi talk their differences but only in vain. Housemates wake up to Aaja Meri Gaadi Me Baith Jaa. Surbhi assigns tasks to housemates. 
09:10 pm: Dipika Kakar and Sreesanth indulge in a fun conversation. Sreesanth wants kitchen members to sweep the kitchen floors. Dipika and Surbhi get into argument. Karanvir Bohra expresses concerns over work load. Surbhi gets offended about Dipika's comment. Sreesanth gets angry at Rohit and Deepak. He threatens to thrash them both. 
09:15 pm: Deepak asks Deepak to ignore him. She says she's better that she hasn't planned anything before entering Big Boss. Sreesanth steps in. Surbhi tries to calm them down. Surbhi thinks Sreesanth can't hit Deepak. Sree says, "bahar hota toh hospital me hota ab tak".
09:20 pm:  Romil calls Deepak and Rohit and asks Sreesanth to hit him. Surbhi and Dipika try to talk their differences out. On the other hand, Megha Dhade locks horns with Deepak and Rohit. Megha loses her calm. Surbhi and Dipika talk peacefully. Now it's time for Kaalkothri punishment. 
09:25 pm: Surbhi Rana nominates Jasleen for Kaalkothri. The first gong goes and Surbhi Rana comes to platform. She nominates Megha Dhade. Dipika and Megha talk about the Kaalkothri. Jasleen steps for the next gong. She nominates Rohit Suchanti for Kaalkothri. 
09:30 pm:  Romil nominates Megha Dhade. Megha becomes first contestant to go to Kaalkothri. Surbhi nominates Jasleen as she thinks she is not careful while handling things. Jasleen is angry with Deepak and Rohit for talking in between. Surbhi again takes Jasleen to make sure that she goes to jail. 
09:35 pm: Dipika agrees with Jasleen. She stands against Surbhi Rana. Housemates stand against Surbhi. Dipika makes her mind to take Romi's name for Kaalkothri. Jasleen breaks down. 
.@ms_dipika also thinks that #SurbhiRana's decision of putting #JasleenMatharu in jail was biased! #BB12 #BiggBoss12 pic.twitter.com/Wzlw00Wef6

— COLORS (@ColorsTV) November 23, 2018
09:40 pm:  Deepak nominates Dipika Kakar's name. Karanvbir Bohra also nominates Dipika Kakar. Dipika is upset that Deepak and Rohit are not getting punishment for their inappropriate words. Dipika, Jasleen and Megha are in Kaalkothri. 
09:45 pm: Somi is upset with Romil's inclination with Jasleen Matharu. Jasleen accuses Romil of changing rapidly. Srishty Rode is feeling unwell. Dipika and Jasleen not happy with Rohit's stealing habits.
.@imrohitsuchanti ne churaayi @SrSrishty ke liye APPY FIZZ. Kya hoga iska anjaam? Stay tuned to find out. #BB12 #BiggBoss12 @iamappyfizz

— COLORS (@ColorsTV) November 23, 2018
10:00 pm: Bigg Boss reprimands Rohit and Srishty for handling illness on their own. He also nominates Rohit Suchanti for Kaalkothri. Bigg Boss asks Surbhi to bring one out of three Kaalkothri inhabitants out of the jail. She picks up Dipika Kakar.