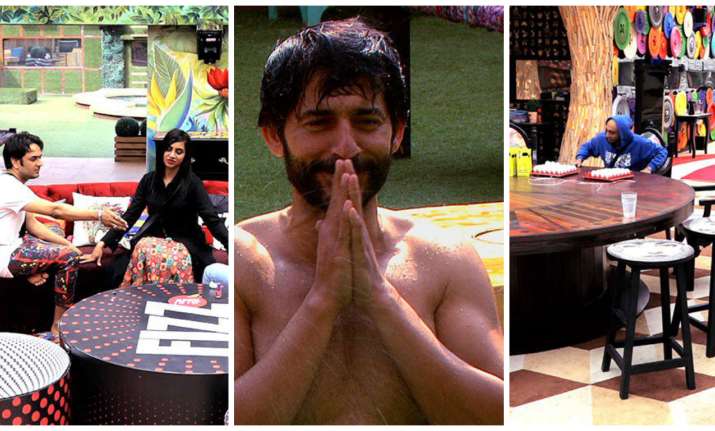 After the shocking eviction of Bandgi Kalra, Bigg Boss house is again set for fresh nominations. The December 4 episode began with house waking up to the song, 'Gandi Baat'. In the news game, sevaks are given to all the ladies of the house to do all their work. Shilpa gets Akash and Puneesh, Hina gets Luv and Priyank and Arshi gets Hiten and Vikas. Shilpa gives all her chores to them. Arshi flirts with Hiten and ask him to massage her with oil. Hina drapes sarees on Luv and Puneesh and name they Kanta and Bilkis.
Shilpa consoles Puneesh and asks him to focus on the game. Arshi and Akash again get into verbal spat. Akash calls her cheap for hitting on Hiten. Vikas says that Akash can now stoop low to be in the game. On the other hand, Arshi makes Hiten to take off his shirt and then Vikas pushes him in the pool. Arshi, Vikas and Hiten have fun in the water.
Now starts the nomination process. As Vikas is the captain, he is safe. This time, housemates have to name a contestant whom they want to save. Hina is the first one to go into the confession room. She takes the name of Priyank.  Hiten names Shilpa, Priyank names Arshi, Arshi names Hiten, Akash names Shilpa, Shilpa names Puneesh, Luv names Hina and Puneesh names Shilpa.
Luv and Akash get nominated after no one named them. But then comes a twist, Vikas is asked to save a contestant and nominate another in that place. Vikas nominates Shilpa and saves Luv. The housemates are now thrilled that Akash is surely the next contestant to be evicted. Hina and Priyank discuss about Luv's changed attitude. Hina says he is hurt as no one among them saved him despite being his friends.
Stay tuned to this place for all latest Bigg Boss updates.