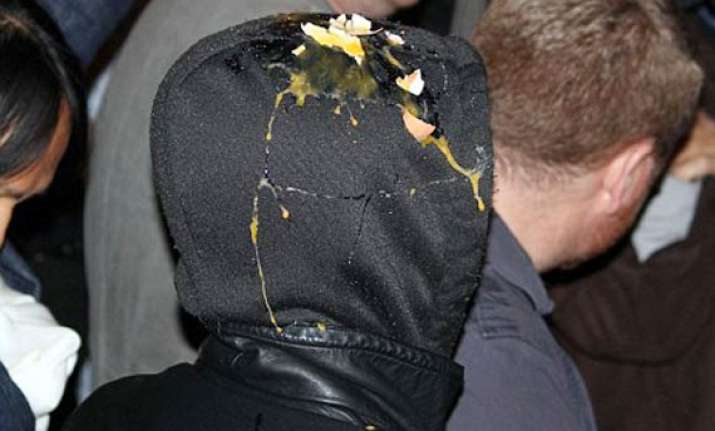 Sydney, Jul 13: Eggs were thrown at  singer Lady Gaga  outside the ARG nightclub here on Tuesday night, as she  walked out after a night of partying, reports The Daily Mail.

The 25-year-old singer was not hit by the eggs, but Gaga maintained her composure and kept a big smile on her face as she was escorted through the crowd to a waiting car, the report said.

However, one man in the crowd was in fact hit by an egg.

The Born This Way singer rocked a risqué black leather outfit which left little to the imagination as she spent the night bar-hopping in Sydney.




She had already surprised nightclubbers earlier in the night when she slipped into an eccentric leather Iris van Herpen dress and lace shroud.

But in true Lady Gaga style, she certainly didn't fail to shock even further, when hours later she moved onto another top gay club, the Arq.

There, Gaga slipped on a two-piece bikini that barely covered her rear.

Leaving very little to the imagination, the Madonna-inspired gold embellished ensemble appeared to cover up the singer more than normal at the front, but as she turned around she gave audiences an eyeful of her curvaceous derrière.

And of course the raunchy antics didn't stop there.




The Born This Way singer also got up close and personal with some topless male dancers during the energetic performance.

She also whipped her hair in all of it's two-toned blonde and mint green glory, back and forth.

Gaga stunned Sydney partygoers when she first made her first surprise appearance at one of the city's top gay clubs, Nevermind, earlier in the night.

And once again there was no danger of her blending into the crowd as she arrived at the venue at 11:15pm in a leather Iris van Herpen dress and lace shroud.