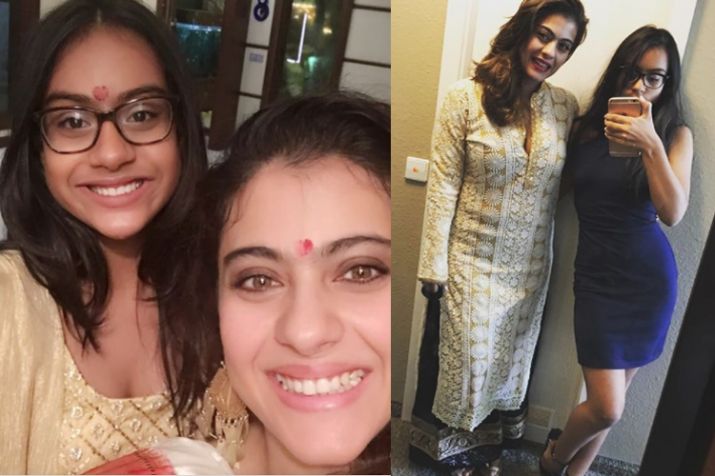 Kajol is amongst the eternal leading ladies of Bollywood who will be honoured in Singapore by having a wax statue at the prestigious Madame Tussauds. The actress left for Singapore, a few days back and met her daughter Nysa Dvgn, who is currently in Singapore for further studies. 
Now, Kajol took to Instagram to share a photo of herself with her darling daughter as they got ready to walk their first red carpet together.
The 43-year-old actress wrote, "My little girl with me on a red carpet for the first time", hinting at a red carpet appearance. Both ladies looked gorgeous in black attires and we could not help but see the resemblance of Kajol showing in Nysa.
"Kajol is excited to see her statue, which will be housed at Madame Tussauds Singapore. This is also a great opportunity for her to spend some time with daughter Nysa, who studies in the island city. So, it works out well for both of them", a source was quoted as saying to DNA.
Kajol's Dilwale co-star Varun Dhawan's wax statue is also placed under the same roof. She is among the few leading ladies in Bollywood to be immortalised through these works of art. And the actress rightly deserves a place there.
"Besides the various accolades and awards that she has received including the Padma Shri, she and her co-star Shah Rukh Khan are the only two actors whose movie (Dilwale Dulhania Le Jayenge) holds the record for being the film with the longest uninterrupted run at a theatre (1,109 weeks), in the history of Indian cinema", the source added.
On the work front, Kajol will be next seen in 'Eela', where she will be featured as an aspiring singer and a single mother to National Award winning actor, Riddhi Sen. The film is slated to release on September 14.