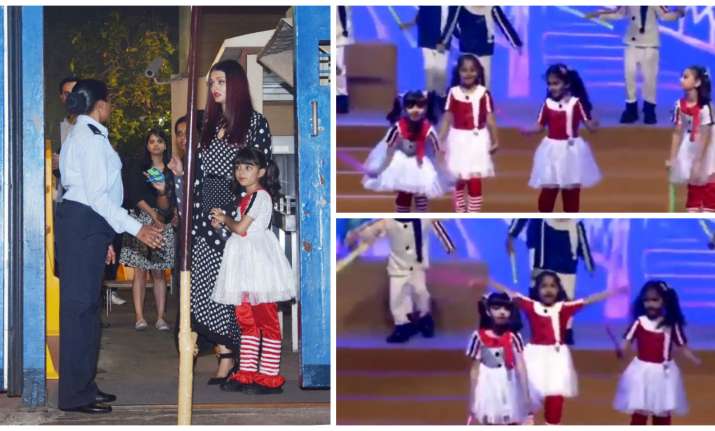 Rarely it happens that we get to see Bollywood celebrities under one roof and that too to cheer for their kids. Recently, Dhirubhai Ambani International school organised an annual day fest and it witnessed number of Bollywood stars in its premises. From Aishwarya Rai Bachchan-Abhishek Bachchan, Hrithik Roshan- Sussanne Khan, Rohit Roy, Lara Dutta, Mahesh Bhupati to Karisma Kapoor, everyone wanted to feel the pleasure of their kids performing on the stage. 
The baby doll of the Bachchans, Aaradhya Bachchan also performed on a song. We have got our hands on a clip that is being shared on Twitter. Dressed in red and white frock, Aaradhya charmed everyone with her cutesy moves. She is all charged up and looks like she is dancing with all her heart. Undoubtedly, she is a star performer just like her parents and grandparents. We are sure that Abhishek and Aishwarya must have been very proud after watching their li'l princess on stage.
Check out the video below:
Aaradhya's Annual Day performance from a few minutes ago. She was clearly in charge and I especially love the ending pic.twitter.com/yxNK1YR1Sw

— Bewitching Bachchans (@TasnimaKTastic) December 16, 2017
Talking about how Aardhya changed her life, Aishwarya told a leading daily, ''Aaradhya and I have a soul connect. My day begins and ends with her. From the moment I wake up my entire perspective on the day is centred on her. Her constant presence in my life is not even something I consciously think about it. It's just there! And I wonder how I lived before she was born. Only a parent would understand how I feel. To me, my world changed the day Aaradhya was born. Everything is the same around me. But she has changed the way I look at the world. The world that I now occupy with my daughter is my reality. Everything else is a secondary.''
On the professional front, Aishwarya is currently busy with the shooting of Fanne Khan, co-starring Rajkummar Rao and Anil Kapoor. Directed by Atul Manjrekar, the flick is set to release on June 15 next year.