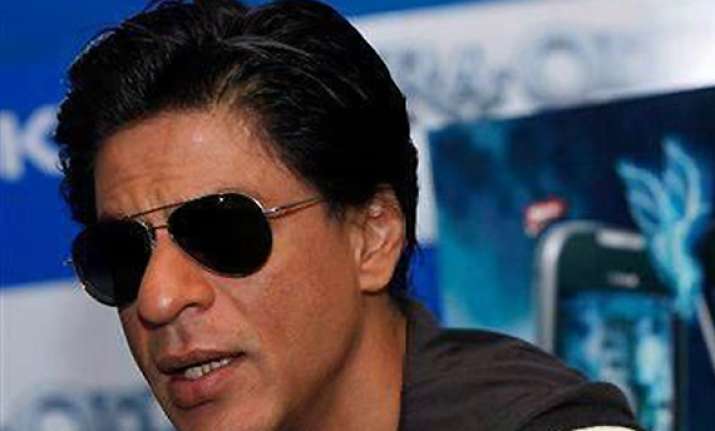 New Delhi, Apr 3:
Bollywood superstar Shah Rukh Khan would deliver a lecture at the prestigious Yale University as it's Chubb Fellow, an honour which in the past has been awarded to the heads of states and Noble prize winners.
As part of the prestigious fellowship, Shah Rukh Khan, 46, would deliver a lecture at Yale University on April 12, the university said in a statement.
The Chubb Fellowship is among Yale's highest honours and Khan would join a roster of fellows dating back to 1949 which include the heads of states, Nobel Prize winners, and leaders from every area of human endeavor who have inspired Yale students.
"Through his films and his philanthropy, the Chubb Fellowship noted that Khan has been among his generation's most important examples of the power of art to promote higher human ideals and aspirations," the University said.
Established in 1936, through the generosity of Hendon Chubb (Yale College Class of 1895), the program is based in Timothy Dwight College, one of Yale's residential colleges.
Each year three or four distinguished men and women have been appointed as visiting Chubb Fellows.
Chubb Fellows spend their time at Yale in close, informal contact with students and deliver a public lecture. Former Chubb Fellows include Presidents George W Bush, Ronald Reagan and Jimmy Carter; authors Octavio Paz, Carlos Fuentes and Toni Morrison; filmmaker Sofia Coppola; architect Frank Gehry; choreographer Mikhail Baryshnikov; and journalist Walter Cronkite.
Often referred to as The King of Bollywood, Shah Rukh Khan has acted in over seventy Hindi films.  He has won fourteen Filmfare Awards from thirty nominations for his work in Indian films. In 2005, the Government of India honored him with the Padma Shri for his contributions towards Indian Cinema.
After graduating with a bachelor's degree in economics from the University of Delhi, Khan started his career with theater and several television serials in the late 1980s.
Early in his career he was recognized for his unconventional choice of negative roles in films such as Darr (1993), Baazigar (1993) and Anjaam (1994).
Since then, he has played leading roles in a variety of genres, including romantic films, comedies, thrillers, action sports, and historical dramas.
Eleven of the films he has acted in have accumulated worldwide gross earnings of over $1 billion.
Shah Rukh's films such as Dilwale Dulhaniya Le Jayenge (1995), Kuch Kuch Hota Hai (1998), Devdas (2002), Chak De! India (2007) and Om Shanti Om (2007) remain some of Bollywood's biggest hits.
Globally, Khan is considered to be one of the biggest movie stars, with a fan following in millions.
In 2008, Newsweek named him one of the "Fifty Most Powerful People in the World.