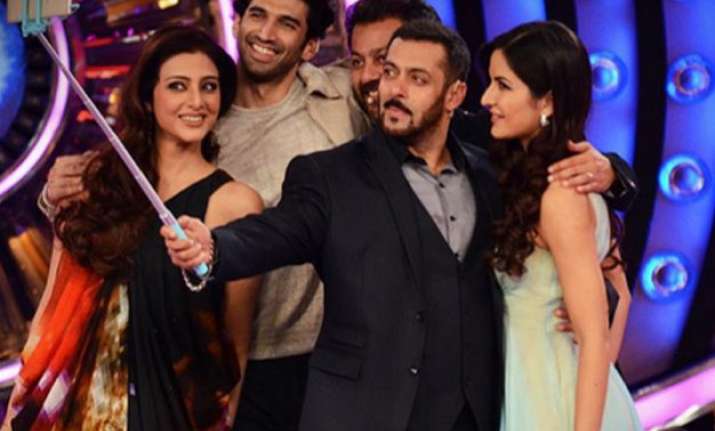 New Delhi: Close on the heels of the break-up between celebrity couple Ranbir Kapoor and Katrina Kaif, superstar Salman Khan today shared the stage with his ex-girlfriend actress. Katrina's visit on the sets of the reality show came amid immense speculation. Katrina was on Bigg Boss to promote her upcoming movie 'Fitoor' along with her co-star Aditya Roy Kapur.
While it was highly expected that Salman will mention her recent rumoured split with Ranbir Kapoor on the show, he didn't. In fact, a clever Salman Khan came to the rescue of his former lady love when Valentines' Day plans were being discussed.
Allow us to end your confusion and tell you what exactly happened.
On the show, Salman mentioned that he has no valentine this year; after discussing the release date of 'Fitoor'. To his statement, Tabu who was standing next to him, said neither does she. The next in line to answer this question was Aditya, who replied that he was not sure about it yet.
It was obvious that Katrina would be follow suit and discuss her V-day plans. But, Salman was quick enough to turn the conversation to 'Fitoor' and quickly wrapped up the conversation by urging fans to watch the movie on Feb 12.
In the show, Salman also tried Aditya's romantic lines with Katrina and failed miserably. Impressed by her dance in the hit song Pashmina, he gave her the name Pashmina Katrina Kaif. When Kat entered the house, he also praised her for her talent and said, "Katrina, you are one of the strongest woman I know."