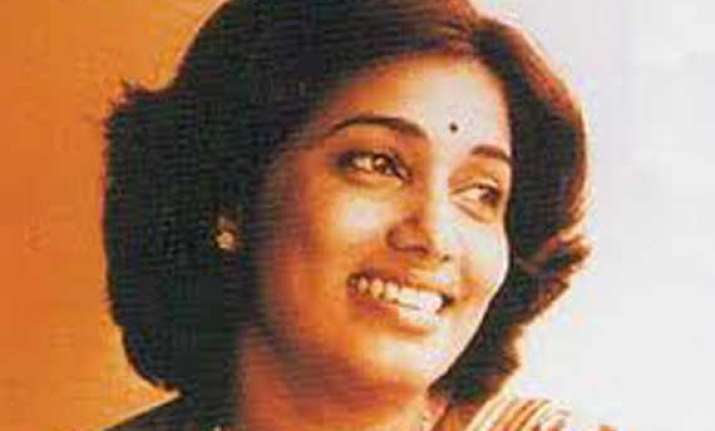 Kolkata: Refusing to buy the logic the melody is missing from modern songs, legendary singer Arati Mukherjee says nothing can be generalised and she finds the lyrical feel in many present day numbers. "If there are good lyrics, haunting music and perfect rendering of the two - which I find in many present day numbers - songs are bound to top the popularity chart, today or days of yore," Arati told PTI.
The FilmFare award winner for evergreen Masoom in 1985, now part of a jury of 'Mirchi Music Awards', said "From Shreya Ghosal to Lopamudra Bhowmik, Kashiki Chakroborty and Jeet Ganguly, I like the voice and rendition of several presentday singers. "But yes, they are now all established singers and there is a certain void of upcoming artistes," the 'Bolo na bolo na soi'  and 'Swapno Niye" singer said.
Arati, who meliflous voice enhanced the popular appeal of Bengali hits like Hansoraj, however found some film songs are becoming repettitive because of same melody, same tuning and same orchestration. Coming to cult 'Tokhon Tomar Ekush Bochor' number, which still tops the graph in FM channels, Arati recalled, "There are some songs which are destined to be so. At that time I was young and never realised it would create such a history."
"Hearing songs of today's generation, including Bangla band numbers which have certainly an element of freshness, I sometimes feel like returning back and beginning all over again. I still remain young at heart," Arati said. The legendary singer, who revealed having heard over 1500 numbers from upcoming young singers "As part of the task of every Mirchi Music Award jury panel member," said she didnot sense any fatigue.
Bhoomi frontman and popular contemporary singer Surojit Chatterjee, whose recent album 'Surojit o Bondhura' notched up record sales, said "The scene in basic album field is disconcerting." "Hope FMs and this award, the only one of this kind, will contribute in its way to change the situation," Surojit said. The juries include names like Ustad Rashid Khan, Debojyoti Mishra, Pt Bickram Ghosh, Usha Uthup, Kalyan Sen Barat, Arati Mukherjee, Sraboni Sen.