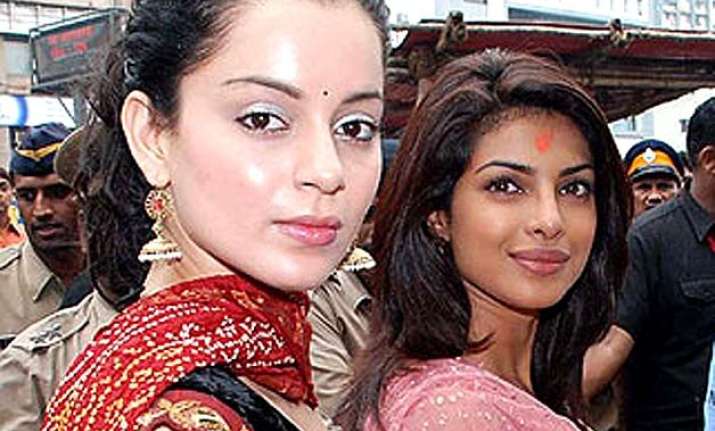 Is Priyanka Chopra really happy over Kangana Ranaut's national award win for 'Queen'
New Delhi:
Kangana Ranaut
has won a National Award for her brilliant performance in 'Queen.' The entire film fraternity is going gaga once again over this achievement by the actress; cotemporary
Priyanka Chopra
has expressed more-than-overwhelming attitude for the lady.
As her latest tweet, Priyanka posted, "I hate losing.But if I had to take a back seat to anyone this year it would be U #KanganaRanaut ! Congratulations!yay Queen!#SmallTownGirls"
The gesture might seem impressive for many. But should we note this is the actress who was deemed to have gulp-in all the awards that Kangana deserved.
In her recent statement to a website, the 'Queen' star indirectly accused Priyanka Chopra of accepting the awards that were actually deserved by herself for 'Queen.' In a story published on Pinkvilla, Kangana was quoted as saying that "I was supposed to get all the awards (that ultimately landed to Priyanka). You think we don't come to know before hand?"
Though the curly-haired girl further said that she has always maintained healthy terms with Priyanka and she respects her for making her learn many things when she entered in the industry.
Also, Kangana'a primary rage had to do with the organizers of such award shows who consider an actress' presence at their event more valuable than their performance in a film.
Well, in whatever light Priyanka's comments and 'wishes' may have remained, we truly wish both the actress more success ahead!