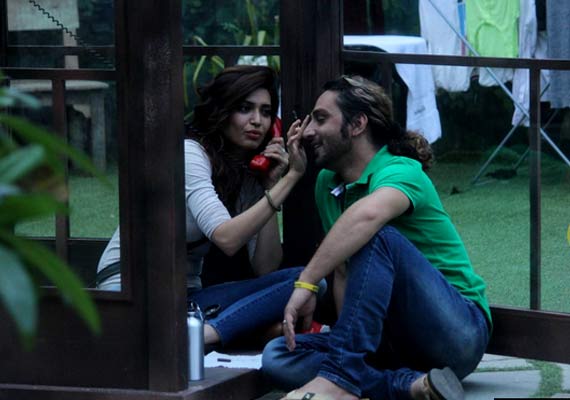 Upen asks Ali, if it's true what Pritam told him. Ali bluntly refuses to admit the statement and even tries to dodge the matter.
This irritates Upen and he gives a final warning to Bigg Boss 8 housemates that his goodness should not be taken for granted otherwise he will be the first person for the one who messes with him. Upen also challenges housemates to say whatever they want to but on his face.
Later, BB listens to Sonali's complaint against Ali's misbehaviour and punishes him by stripping off captaincy. Not just this, but Ali is also barred from becoming the captian throughout the season. Ali also gets nominated for next week's nominations.
As the day progresses, Bigg Boss installs a telephone booth in the garden area, phone rings and as usual Karishma runs to attend the phone call. The caller puts the conditions of the tasks one by one and asks Karishma, not to share them with anyone in the house.
# Stay inside the booth till she is asked to leave
# not reveal the conversations between the caller and her to any housemate
# Convince the housemates to perform the task given by the caller
Karishma is also told that if she fails to convince any contestant to perform the task, then she will be at loss by getting nominated for the next week's evictions.
The caller first question to Karishma is about the most beautiful person in the house, She says, "I am the one'. Then caller asks her to name a person who needs a makeover. Karishma names Praneet. Now the caller asks her to convince Praneet to bleach his eyebrows, if she fails to do so, she will lose.
Karishma convinces Praneet to bleach his eyebrows, Praneet is bit reluctant  initially but later agrees to bleach his eyebrows.