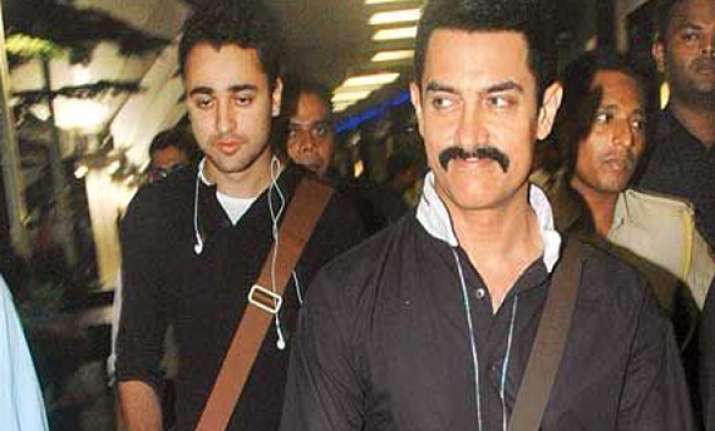 Mumbai, Feb 13: Did Imran Khan acted brilliantly in Ek Main Aur Ekk Tu?  There's a media report which says Imran broke down after an emotional phone call from uncle Aamir, when the latter praised his performance for the first time. 

Ek Main Aur Ekk Tu has opened to rave reviews and good box-office collections, and that's when Aamir rang up his bhanja on Saturday, says the report.

Mamu had been on a whirlwind tour of India and has not seen the film yet,  but he called up his nephew and spoke at length about the feedback he has been receiving for Ek Main Autr Ekk Tu.

"Imran, after hanging up, got very emotional and burst into tears. Probably for the first time, Aamir has been so appreciative of Imran. He is planning to see the film once he is back," says an insider from Imran's team.

Aamir even posted on his Facebook page: "Just spoke to Kiran (Rao, wife) on the phone. She really liked EMAET and said that this is Imran's best performance till date. That's great news, most thrilled."

Although Imran's family members have always appreciated his work, they always felt that since he is growing as an actor, he could do better. "But this time, they have all seen the film and loved his performance," says the insider.

"In fact, Aamir has got messages saying Imran has come of age with this performance.He's very happy with the appreciative words he has been receiving on Imran's behalf " says the insider.

Says Imran says with a smile, "Yes, it has been a very emotional weekend. Besides the critical acclaim, I am happy that everyone is loving EMAET. The numbers at the box office have been
very good.
But for me, the most important feedback has been Aamir's, despite him not having seen the film yet."EMAET is Imran's third film after  Delhi Belly and Mere Brother Ki Dulhan.